After the funeral on Saturday, my self confidence was shaken and I was feeling tired. Despite having played most of the music competently, I was concentrating on those fleeting moments I had "crashed" and the laughter of people in the back row. I usually express this kind of reaciton in myself as "I SUCK!"
That I was off balance was obvious.
Exhausted, I decided to persist and to go through the motions of rehearsing the music for the next day's service. This proved beneficial. As I practiced I went from frustrated to calm. At the end of my rehearsal I realized that even though I wasn't as prepared I wanted to be to play the Prinz/Bach concerto movements the next day, there was little need to beat myself up over it. Indeed doing so would result in a much less enjoyable experience and a worse performance. In the end I resolved to come fifteen minutes early as usual and go over sections (especially in the prelude – the first movement) and let it go at that.
This worked very well. Not only did I perform very well yesterday, I was calm and happy for the whole morning. This aided me in leading the choir into a pretty good performance of their anthem. Admittedly it was kind of show boat piece by Robert Leaf. I don't do many of these, but once in a while it is a good idea to schedule something a bit dramatic. One of the reasons I avoid it is that choirs can get so involved in a piece like this that they end up making sounds that are not beautiful. I spent a lot of the pre-service rehearsal working on warming them up vocally. This paid off for the most part.
The anthem, "To Our King Immortal," was for soloist, SATB choir and organ. I divvied the solo parts up between a single soprano voice and all the men. Then I divided the choir physically. I had the men stand to the far left of the stage, the women to the right, and the soloist on the floor near the piano. This emphasized the back-and-forth nature of the piece. This was a subtle connection to the organ concertos I played for the prelude and postlude, especially the first movement (prelude) which also alternates between a tutti and a soli part.
After service, I was surprised at the many comments (even from academics) about this anthem. My boss (who was busy convalescing during the previous day's funeral) said that she had reports that the music at the funeral had gone very well.
Just shows to go ya I guess.
1.  Black Author wins Copyright Case for Matrix movie | Jason Skywalker's Blog
I put this link up Friday. It's a bogus story. Thank you to Elizabeth for clarifying. I admit that I hadn't paid close attention to it.
Music group I bookmarked after my friend Rhonda mentioned them. I'm pretty sure I have listened to their performances before.
3. Veteran Union Activist Fasts to Support Rights for Illegal Immigrants – NYTimes.com
Again Elizabeth pointed this story out to me. Then I read about it in this link. I especially find the politicians dismissal of the fasts chillingly inhumane.
4. In Defense of a Loaded Word – NYTimes.com
The language we use about race and racism is fascinating to me. Banning a word always reminds me of the novel/movie "Z."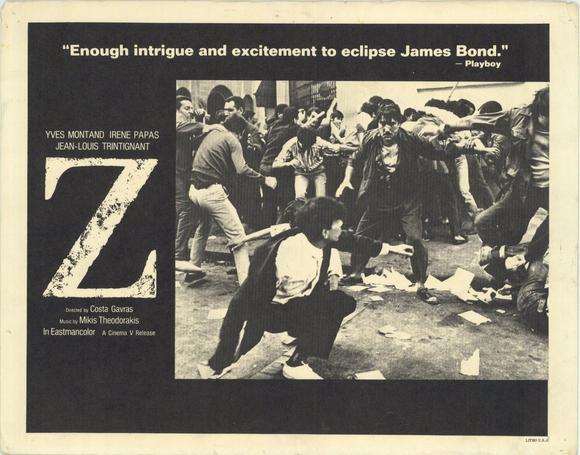 Both the book and movie end with the bad guys in an unspecied country (a lot like Greece) completely repressing the rebels. All mention of them are banned as is the letter "Z" they had used as a symbol of  a brutal assassination.
5. Are Kids Too Coddled? – NYTimes.com
I notice that certain little kids will give me berth because they seem to see clearly that I will not be the adult that caters to them. I like that.
On a similar note I head Chris Matthews on C-Span yesterday.
It reminded me of the Rachel Maddow phenomenon. By that I mean that I have read a book by Maddow and found it and her thinking brilliant. However I cannot watch her on TV. I agree with Chris Matthews about many political ideas. I cannot watch him for long though.
But on C-Span he was speaking at a Book Festival as an author. He said something like this:
What we need in Washington is not more Democrats or Republicans. What we need is more grown-ups.
He quoted Charles Schulz's definition of kids and grown-ups. Kids get to sit in the back sear of the car and whine and complain. That's what kids do. Adults have to put gas in the car, drive it and decided where to go.