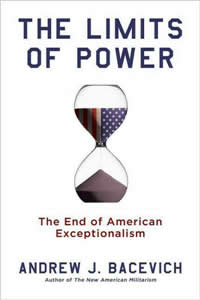 I'm reading two books that complement each other in fascinating ways right now.
Among Empires by Maier takes the long historical view of America and other empires. The Limits of Power by Bacevich is helping me understand how America's power political structure evolved to the point of the incoherence I have witnessed in my life time.
I just used up my Amazon gift certificate from my brother and his wife (Thanks again, Mark & Leigh!) and ordered several titles by Bacevich and one bio of someone I had never heard of before, James Forrestal, Driven Patriot: The Life and Times of James Forrestal by Townsend Hoops and Douglas Brinkley.
According to Bacevich, Forrestal's rise to power in the inner circles of the so-called Wise Men that the US governmental executive calls on marked a turn away from a "cadre of distinguished" rich influential citizens to "pseudorealists" equally distinguished but who combined a "sense of alarm' with a drive for action.
The "influential citizens" he typifies in a man named Henry L. Stimson who served several presidents beginning with Roosevelt.
These forerunners were people who at their worst were "parochial, hidebound, and given to snobbery," but at their best represented "trust, truth, justice, virtue, the reign of law, the call of duty, [and' the shining example."
But the first of the later group (which Bacevich insists has stayed influential ever since gaining credibility since the 1040s) was the man, Forrestal.
His type culminated in Paul Wolfowitz.
I am interested to learn a bit more about how this all came about and I think the Forrestal bio might have some interesting insights.
I spent most of yesterday looking at choral anthems for Advent and Xmas. Have now chosen 6 out of 7. Pretty complicated trying to find music that will fit my small, talented group; be relatively easy to learn, well written and possibly attractive to the ears of the congregation.
*********************************************************************
BBC News – Viewpoint: Is the alcohol message all wrong?
This is a very odd look at the culture of alcohol in the U.K. It seems to ignore some pretty basic facets of alcohol consumption, but it contains some very British observations about drinking.
*********************************************************************
The symphony and the novel – a harmonious couple? | Books | The Guardian
I disagree with a lot in this article by novelist, Will Self. It presupposes a canonical approach to both music and literature which can be useful but I don't think is an entirely accurate way to approach either.
*********************************************************************
Sex Offender Registry: First, Do No Harm | Michigan Radio
This article interested me because I'm reading Lost Memory of Skin by Russell Banks.
It is the story of a young sex offender who is struggling with the rules (like not living within 1000 feet of where children gather) to make a life after his conviction.
********************************************************************