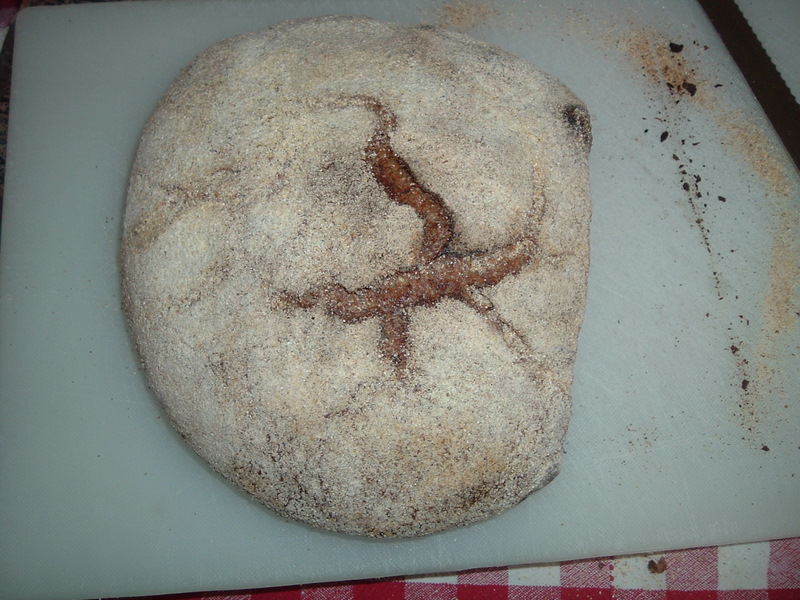 The "knead-less" bread worked. Here's a link to the recipe I used.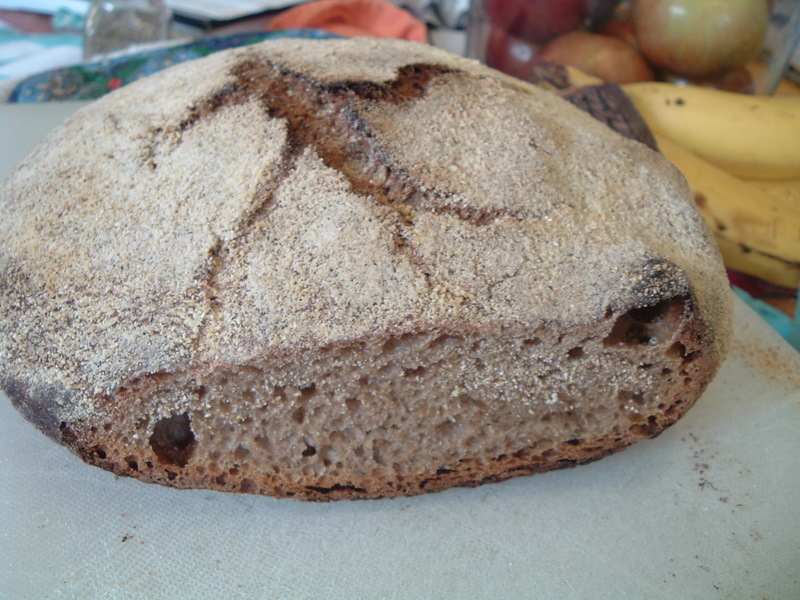 I was pretty happy with the "crumb" (the texture).  I used whole wheat flour. Amazingly this bread has no oil in it making it a "low-fat" recipe. I turned my little gas oven all the way up since it recommended a temp of 450 to 500 degrees. The bottom of the bread got a little dark so next time I think I will use 450 degrees.
I followed the recipe which does not recommend oiling the pot you bake the bread in. I wondered if the bread would stick but it didn't. The loose cornmeal seemed to help it stay free from the cooking surfaces. It tastes great!
I also made blueberry muffins yesterday.  These are actual pics of them and the bread. I have them sitting like this to allow the moisture to evaporate a bit from the bottoms.
My copy of Swafford's Charles Ives: A Life with Music arrived in the mail yesterday. I read the first chapter last night. I think I will enjoy learning more about this composer I admire.
I did manage a bit of relaxing yesterday. I worked hard on rehearsing the upcoming Haydn piano trio. I also did some piano  technique rehearsal of scales and Hanon. I would dearly like to play well Sunday.
After 2.5 hours of ballet class, Eileen and I grabbed a quick supper at the wonderful Margaritas restaurant. Then I went to a rehearsal for the freebie Jazz gig on Saturday. When I arrived at the house, no one appeared to be home. Eventually someone let me in. The rehearsal ended up being me and the bass player running through the tunes the group usually plays.
I don't think of myself as a jazzer but due to playing with people like the Barefoot Jazz Quartet and my colleague, Jordan VanHemert, I am beginning to recognize more tunes in the Jazz repertoire.
I thought about the college approach to Jazz and other music when I read this quote from Ives in the bio above last night;
"The fabric of existence weaves itself whole. You cannot set an art off in the corner and hope for it to have vitality, reality and substance… It comes directly out of the heart of experience of life and thinking about life and living life."

Charles Ives
My experience of college is that while it can deepen one's experience of music and definitely expanded my meager skills, it does have a tendency to gaze at its own navel and cease to actively "weave" art into real life.  I think Ives's idea that art comes from the "heart of experience of life and thinking about life and living life" challenges us to expand our notions of our lives beyond the boundaries of our immediate experience. Something that is hard to do in college.
While I'm at it, here's a quote from Swafford, the author of the Ives bio.
"One of the innate dilemmas of biography is that life is not much like a book. It rarely contains a clearly stated thesis, coherently developed. Life sprawls, stumbles, advances, retreats, gropes for the light switch, and once in a while makes intuitive leaps whose import is barely understood until later, if every, by the leaper. Life seems to me to be an improvisation."
I have read Swafford's bio of Brahms.  He is a musician and composer as well as an author. I do like his writing and look forward to the bio of Ives.
This morning I have a full schedule of ballet class, meeting with boss, and then piano trio rehearsal. Since today is St. Patrick's day, Eileen and I will skip our pub meal. I'm sure the place will be packed.
***************************************************************
***************************************************************
What the Luddites Really Fought Against | History & Archaeology | Smithsonian Magazine
Again haven't read this but it looks interesting.
***************************************************************
Aflac and Chrysler, Turning to Social Media, Hit Trouble – NYTimes.com
While acknowledging the serious of the fact that Gottfried lost his job pitching Aflac, I found this article amusing.
"Laura Kane, a vice president at Aflac, said on Tuesday the company had stopped running television commercials using the voice of Mr. Gottfried, including one that had been introduced only last week.

"We are re-voicing them temporarily," she added, as the company makes plans for "a nationwide casting call to find a new voice for the duck."
***************************************************************
Jordi Savall and Company at Lincoln Center – Review – NYTimes.com
James Blake at Music Hall of Williamsburg – Review – NYTimes.com
A couple of reviews describing music I plan to check out later. I am a fan of Savall ever since hearing his work on the soundtrack of Tous Les Matins du Monde.
***************************************************************
Publishers and Libraries Struggle over Terms of E-Books – NYTimes.com
I hope that the struggles over copyright end up preserving innovation and protecting access to ideas.
***************************************************************
Speaking of copyright, this a nasty little site where consumers report wanting to purchase material, being unable to do so and then resort to procuring it by other means.