This past Sunday afternoon, the day of David Bowie's death, Eileen, I and probably many others serrendiptiously  were viewing videos of his album, Blackstar.
Although the video above seems to have been released in November of last year, the wikipedia article on the album says it was released Jan 8, 2016. That would be two days before his death. Weird.
The analog converter continues to work.
Yesterday I made an mp3 of a radio show which featured my Dad.
The show is called American Profile.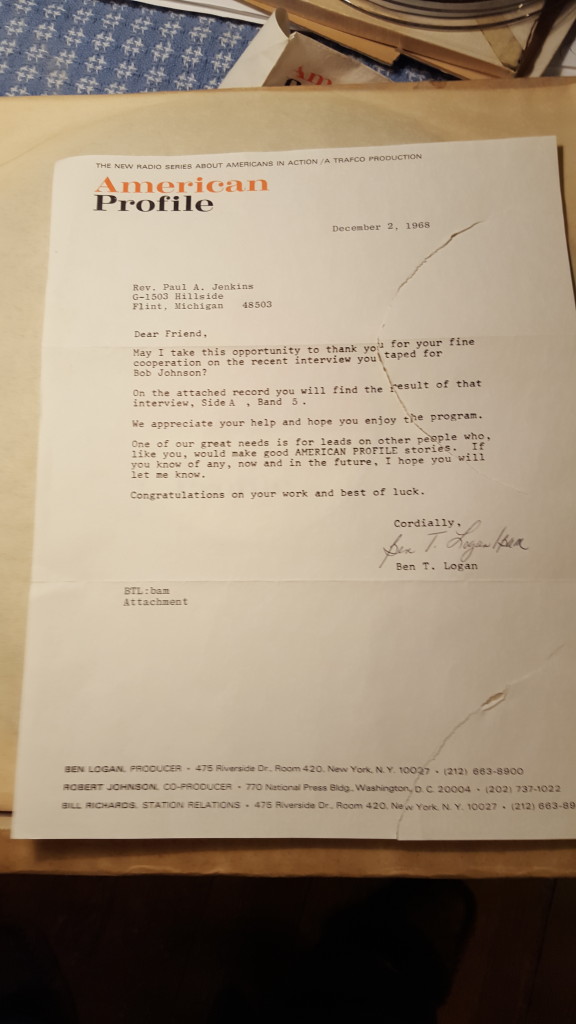 The episode is from Nov 1968. Since there is now a magazine with this title, the radio show didn't pop up with a few searches. Nevertheless I think this is very cool.
In Nov 1968, I was a senior high school student at Carman High School. Dad writes about this time in his memoir, Through Many Dangers, Toils and Snares.
In March, 1968, he attended the Urban Training Center in Chicago. He writes, "This helped me discover a new direction for the inner changes which were happening to myself."
He describes the beginning of this training as "… trainees taking the 'PLUNGE.' Living on the street as did the street people with only $1.50 a day for three days… [As a result of the training] I returned to Flint with some drastic new directions."
He continues, "The Church [West Court Street Church of God in Flint] began to think I was no longer THE PASTOR they had called in 1963… I came back … wearing A CLERICAL COLLAR."
In this same month of that year, Dad was awarded the Pastor of the Year Award from the Men of the Churches of God in Michigan.
In October, 1968, West Court Street took a "vote of Confidence" on the continuation of Dad as their pastor. He narrowly won: 54% to 47%.
In November, 1968, Dad notes in his memoirs that Nixon was elected president. This radio program also aired that month. Dad resigned the pastorate at West Court Street the next year and moved to Ohio.
This is an excellent article from which every user of social media could benefit. It describes stuff I think about especially regarding myself after having used Facebooger for a few years. It was put up by Nick Palmer on Facebooger. Many thanks.
This blog post from November is linked in the one above. Good stuff.
I plan to keep an eye on this blog. As far as I can tell, to access his different blogs you have to go to the following link and look on the left hand side of the page for recent entries.