So you can see I managed to figure out why my computer wasn't "hearing" my analog devices. Above is the mp3 I made this morning. It's a flute duet with six movements. I think it is charming, but don't know the composer. I don't think it's a student composition, but it might be. Comments welcome if anyone recognizes this piece.
I don't know if you can read this. But there is a box next to the phrase "Listen to this device" on one of these windows. It needed to be checked.
It took me more than an hour to figure that out yesterday afternoon.
I played my little heart yesterday at church. Scheduling a partita for both the prelude and the postlude is quite a bit of music to prepare.
When I told Eileen that I thought the prelude, the Thomson piece based on "Shall We Gather at the River," was a funny piece. She replied that she thought it was funny as well but wondered if it was supposed to be.
After the usual Richard Proulx Sanctus one of the sopranos wandered over to the piano. I braced myself. Being a choir director is challenging. One never knows what's coming and often it's not something good. She leaned over and said to me, "That was cool." I think she meant that the way I had played the Holy Holy was cool. Out of sheer boredom, I went a little nuts at the piano and improvised a lot of extra stuff. I was surprised and complimented. Weird.
After church, a different soprano said that she loved it when I was in the kind of musical mood I was in that day. I told her I didn't know what that meant exactly. Still don't.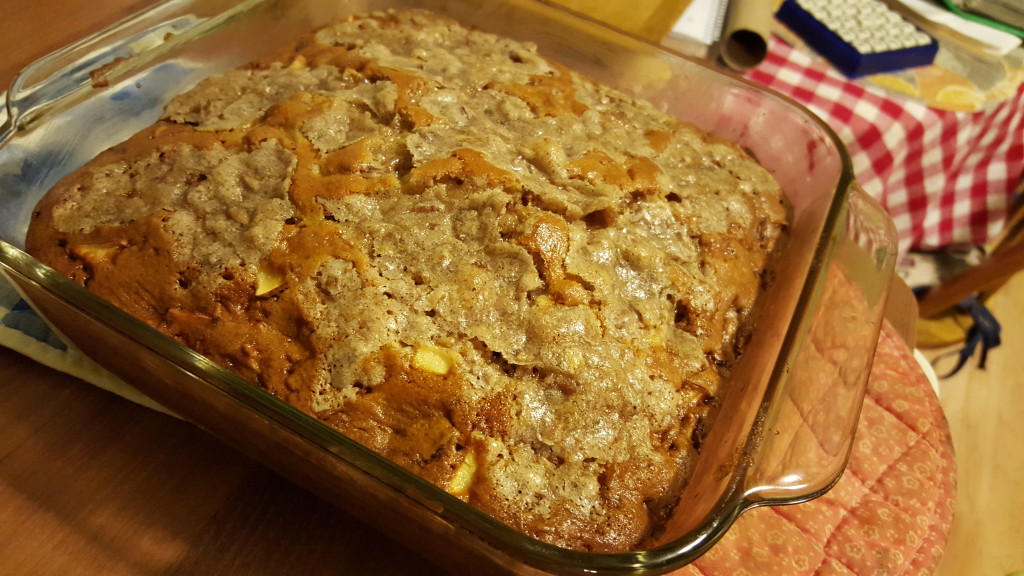 This morning I got up and made this Dutch Apple Cake. I plan to eat some of it for breakfast. I also improvised a crustless quiche.
You can see the freshly prepared bacon on Eileen's side of this quiche. We didn't have much cheese in the house so I sprinkled it on top instead of mixing it in. Inside are whipped eggs, cooked mushrooms, pepper, onions, corn, ricotta cheese, and some fresh spinach. I added a dash of nutmeg to this. I think that makes it good. Planning on having some of this for breakfast as well after Eileen gets up.
I figured out something yesterday. All last week my body was bothering me. I must have some arthritis in my left hip, as well muscle fatigue in my back and tense legs. Last week was the first time I noticed the hip pain while practicing organ.
But all morning yesterday at work I didn't notice any arthritis type pain in my hip or muscle fatigue in my back or cramps in my legs (ain't getting old great?). Adrenaline works wonders.
I'm glad about this. I hope it means I can stay an active musician for a while.