Before Choir rehearsal last night, Elizabeth pointed out that we had had contact with 14 Jenkinses that day. Lunch with Mom and my brother, Mark's fam (5), video phone call with Sarah in England and Matthew off camera  (2), video phone call with California fam (4) and Eileen, Elizabeth and me (3).
I have chosen to learn Bach's Orgelbüchlein setting of Christ ist erstanden for performance as the prelude a week from this Sunday. This will be the tune of the opening hymn that day.  This setting of Bach's is the only example of a three part setting of a chorale in the Orgelbüchlein. It follows the three verses of the original hymn and is so marked Versus I, II, III in the original manuscript.
I love it that the composition in Bach's handwriting is available online.
I'm one of those crazy musicians who will actually look at manuscripts and compare them to printed editions. I have learned to do this because of changes editors make, sometimes one I would prefer not to make, to the original composition.
Also performing a movement from Harald Rohlig's Fantasy on the same tune as the postlude: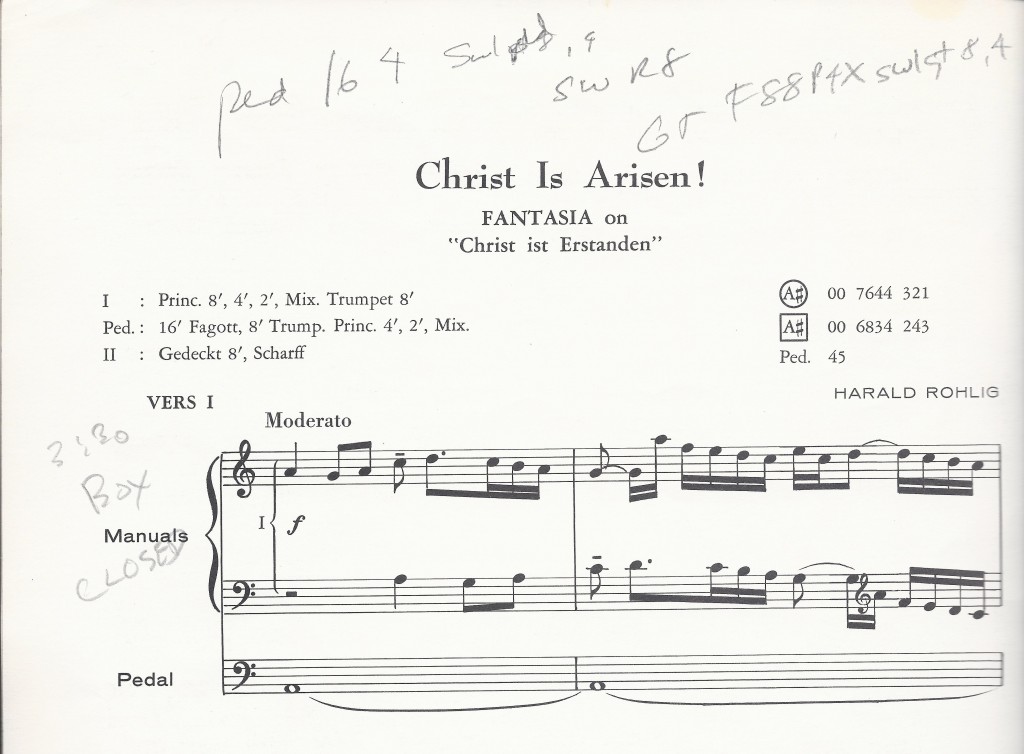 The third Vers 3. 
These two pieces (Bach and Rohlig) will keep me busy for the next week and half. I do enjoy learning music this good.
Well, Elizabeth is visiting so once again I'm bringing this to a close. Life is good. Fun to have her around.
1. Amid a Revived East-West Chill, Cold War Relics Draw New Interest – NYTimes.com
Russian museum.
2. Justices Appear Divided on Cellphone Warrants – NYTimes.com
Hard to rule on subjects you don't exactly understand I would imagine.
3. Voter ID Is the Real Fraud – NYTimes.com
Judges beginning to understand the underlying partisan nature of this controversy? Maybe.
4. Cli-Fi Books
 New term for me. Climate Science Fiction. I understand that Margaret Atwood's latest trilogy falls into this category.