Yesterday Eileen chose to sleep in and skip church. I ended up walking back and forth to church by myself. I encourage her to exercise this option, since when the choir is singing she feels obligated to attend regularly.  I feel like it's my job and there's no reason she has to attend.
The music went well.
I arranged my little organ piece that I had scheduled to include viola and cello on the cantus firmus (the melody).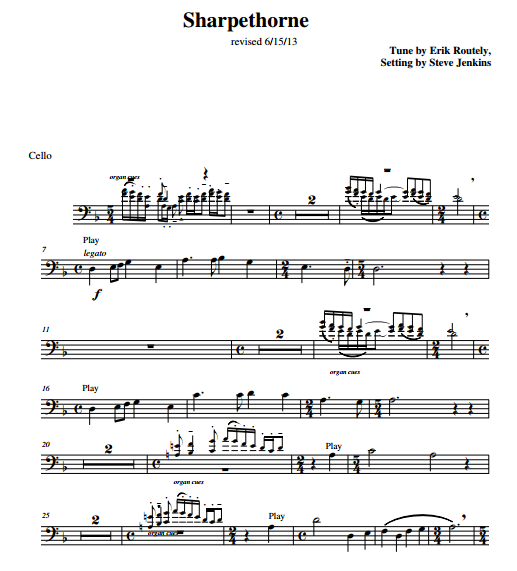 I also wrote a little duet obbligato for viola and cello for use with the offertory hymn, "My faith looks up to thee."
I include all parts in each score in the clef of the instrument to help expedite the lack of rehearsal and ease of performance.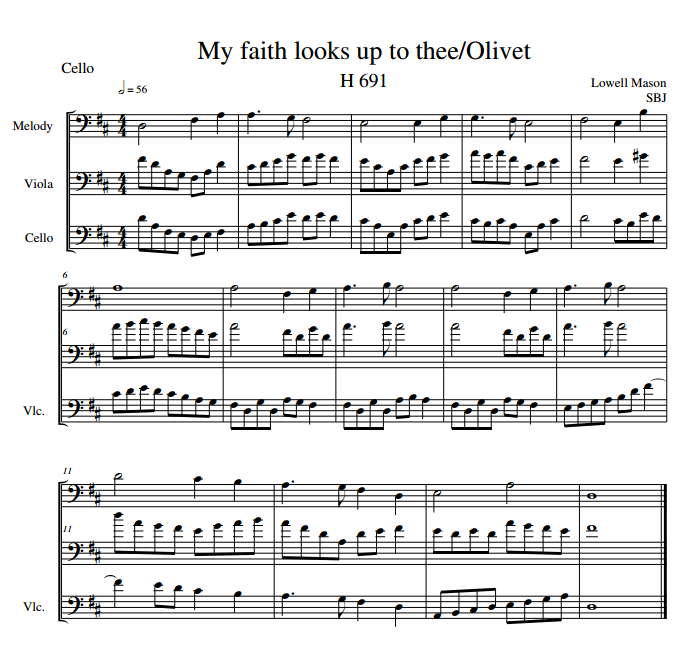 The duet stands by itself as a nice little variation on the tune. So I used it as an intro and third verse accompaniment. In the intro I had the strings behgin alone and I gradually added organ so that the congregation would recognize it as an intro to the hymn and then join in the first stanza.
This worked pretty well. The organ was a bit out of tune when it entered. But what the heck.
I played my little Bach Praeludium et Fuga in C BWV 545 as a postlude.
On Saturday after a long day I dragged myself over to church to rehearse this piece. I rehearsed it daily for the two weeks prior to yesterday and didn't want to mar my practice record and somehow affect my performance.
I'm not sure what exactly worked but I did manage to nail it pretty accurately and musically.
Three men stood around and listened to the entire seven minute performance. It's funny how a few listeners helps validate the idea that one is actually doing something at that point in the service.
Yesterday was Father's Day. At my church one of the lay leaders makes  a big deal out of this and provides beer and brats. I noticed that he had also laid out a ball and glove on the table with the brats. I have difficulty with this kind of gender stereotyping. Also bogus holidays like Father's day. It seems to help people to reduce complexity though. It may give them something to hang on to in a time of heady increase in confusion and chaos in their daily lives.
Having said that, as a father I did appreciate that all my adult kids reached out a bit to me. Sarah even called me on the phone which was nice since we haven't chatted recently and I happened to have had a disturbing nightmare in which she had a part the night before. Good to hear her voice.
1. Player in Leaks Case, Out From Behind Camera – NYTimes.com
Why is  it when I run across movie titles that look interesting they are not on netflix to stream?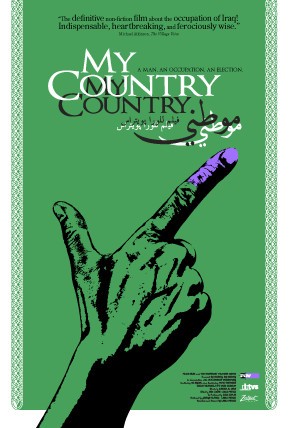 2. John Horne Burns, the Great (Gay) Novelist You've Never Heard Of – NYTimes.com
Indeed I hadn't heard of this writer. Not sure if I actually want to read him but he does have an interesting story as told in this review.
3.China Sets New Rules Aimed at Curbing Air Pollution – NYTimes.com
Pollution. Not sure how effective this will be but every little bit helps these days.
4.The Not-So-Good Old Days – NYTimes.com
I find myself learning from Stephanie Coontz, the author of this article.
"[Y]ou can't just stroll through the past, picking the things you like and skipping the ones you don't, as if historical eras were menus, and you could pick one from column A and one from column B."