Shit it's almost ten AM. I have been goofing off reading and having a nice breakfast with Eileen. My daughter, Sarah, and her significant other, Matthew, are in the air flying from the UK to Chicago. I am looking forward to her and Matthew's visit.  We will be joined by the Chinese contingent (Elizabeth, Jeremy, and Alex) in about a week. Their visits will over lap.
I am recalling how visiting with my adult daughters and others from their generation that I know (Benjamin and Emily Jenkins) surprises me. What surprises me is to suddenly be in a room with people that talk to me and think (this is obviously besides Eileen). This will be fun.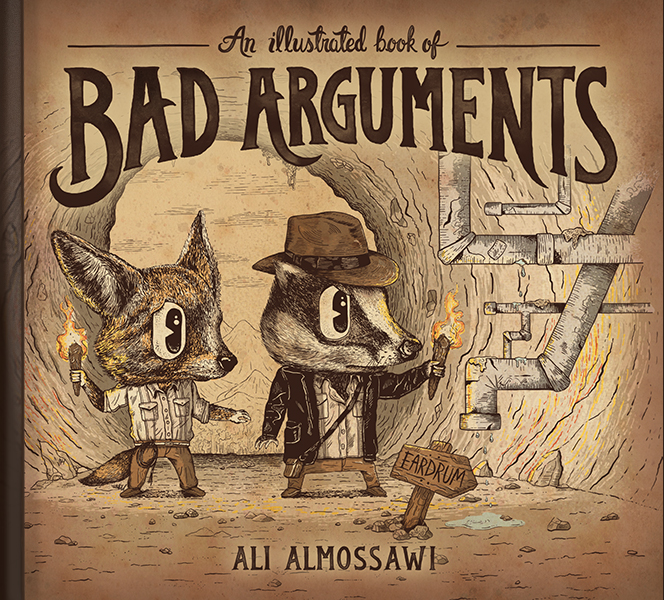 I finished An Illustrated Book of Bad Arguments  by Ali Almossawi this morning. The whole book is available online as well as the next book he is working on: Hans in the Land of Bards.
I am continuing to think about Almossawi's exposition of bad arguments. I learned quite a bit from this book and also remembered snatches of my undergraduate logic class.
Mostly I was thinking about myself, but the concepts of fallacious arguments does expose the holes in much of what I read on Facebooger and hear on the Tube.
The important concept for me was to remember that what is essential to any argument is the content of the argument as well as its structure. What are the "merits of the original idea?" I ask myself. As I read in the book and then popped on to this website for more reading, I discovered holes in my own way of thinking. Excellent. More vigilance is necessary of course but this has my attention. I am planning to follow up on Almossawi's bibliography at the back of the book.
Speaking of fallacious arguments, listen to the Amazon rep as his logic shreds.
Russell Brand mentioned this documentary on Facebooger. I have bookmarked it for future viewing.