"Hang it all, Robert Browning,
..the .. there can be but one "Sordello."
But Sordello and my Sordello?"
This is beginning of Pound's second canto in Cantos. I have read these lines for years and love the way they sound. I also like Robert Browning quite a bit and picked up twelve volumes of his works at a library sale. years ago So when I was reading about the poem "Sordello" by Browning and a critic said something about it being a masterpiece, this morning instead of turning to Pound I began reading "Sordello." I was delighted to find that my ancient creaky edition of his works has an essay and notes on this lengthy poem in the back. Cool.
Bach organ trios
A post or two back I mentioned that Peter Williams said that playing the organ trios can give a keyboard player a unique sort of feeling between the voices he is playing distinct from instruments playing the independent lines. I promised that I might put up the quote which inspired me to think about this. Here it is.
"The Sonatas make a world of their own, as distinctive and accomplished as the first movements of Leipzig cantatas or the preludes and fugues of WTCI. The two hands are not merely imitative but so planned as to give a curious satisfaction to the player, with phrases answering each other and syncopations dancing from hand to hand, palpable in a way not quite known even to two violinists." Peter Williams, The Organ Music of J.S. Bach: Second edition, p. 9
Yesterday I worked over the first movement of the sixth trio. I discovered that the articulation marks in it, the slurs mostly, make an interesting argument for some separation in non-marked sections. There is a logic to the slurs. Bach put some slurs over repeated notes. It's logical, then, to assume that this means repeated notes in this piece without slurs should be played more separately.
Here's an screen shot from Bach-Gesellschaft Ausgabe, Band 15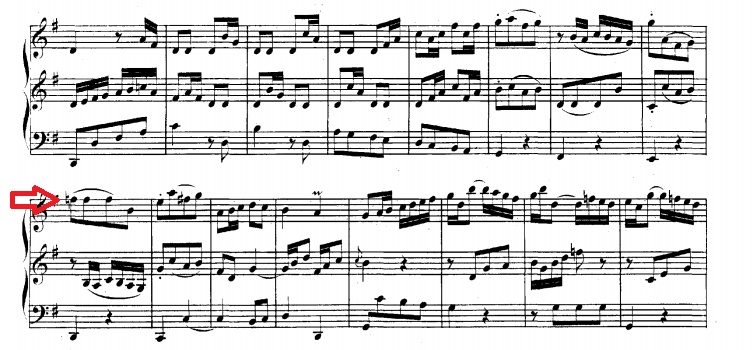 or in Bach's manuscript (don't you love the interwebs?)
Although yesterday organ practice seemed to be a difficult one for me (had trouble concentrating), I learned a lot about this movement by thinking more carefully about the marked slurs. Cool.