The election is heating up to a frenzy. I watch regular people express views that seem to be coming primarily from filters and echo chambers they agree with. Facts are few. This morning I read all League of Women Voters interviews for the Michigan governor candidates and then went on each of their web site.  I  made up my mind who to vote for.  I am planning to slowly use these kinds of resources to figure out who I choose to vote for. I recommend that everyone use their brains and not rely on opinions of others.  The anger is palpable in the media and building daily.  All sides accuse the other sides wildly. Negativity and anger work, but they don't build societies and governments. Just my opinion.
So here are some links to sites I have visited recently.
http://www.publius.org is the basic Michigan website I use to help me decide how to vote.
Link to NPR story and excerpts
Walker is a bit hokey for me, but I'm interested in her new book of poetry. The library system won't let me interlibrary loan it yet because it's too new. Not interested in owning it.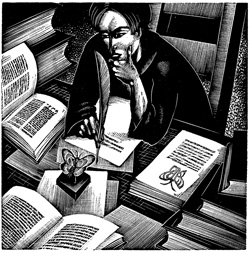 http://www.slate.com/id/2270953/pagenum/all
Slate.com article on 1929 wordless novelists (graphic novel in the new lingo) Lynn Ward.
This is an influential reactionary radical web site. I have read at least one article there that was distortion and innuendo. They don't seem to hesitate to state ideas in short distorted sound bytes.
http://www.nytimes.com/2010/10/24/opinion/24sun1.html?ref=todayspaper
I hate to follow the reactionary web site with the New York Times link because I know the conservative mythology around the NYT is that it is completely a liberal point of view that is subjective and unreliable. Having said that, here's a link to an editorial (therefore subjective, ahem) that corrects a  lot of misinformation about Health Care (Obamacare to those who like to "frame" their disagreement).  The right is poised for a huge victory. I would feel better if the impending victory was more based on issues than ignorance and distortion.  Did you know that the current administration reduced taxes this year to the non-rich? Did you receive a check? Most people did.
Again just my take.
http://wififreespot.com/airport.html
This site claims to identify airports with free wifi.
http://www.flightstats.com/go/Home/home.do has been recommended in the NYT as quicker than the airlines in getting updated info on your flight.
The Sunday NYT book review had two articles that I think are interesting: