The groom for the June 20th wedding emailed me this video yesterday.
He was wondering if I would be able to play it for their recessional presumably instead of the Widor Toccata they had talked about on Saturday.
I couldn't get my IMSLP (International Music Score Library Project) pdf link for this piece to load on my computer so I emailed him back that I didn't  know this one but would get the music and decide if I had time to learn it. (Weirdly just now it loaded fine on this computer. Who knows why.)
Yesterday afternoon I rifled through my Mozart scores and was unsurprised to find that I didn't own it. Fortunately, IMSLP liked the church computer and better and I did manage to download a copy of the piece and read through it.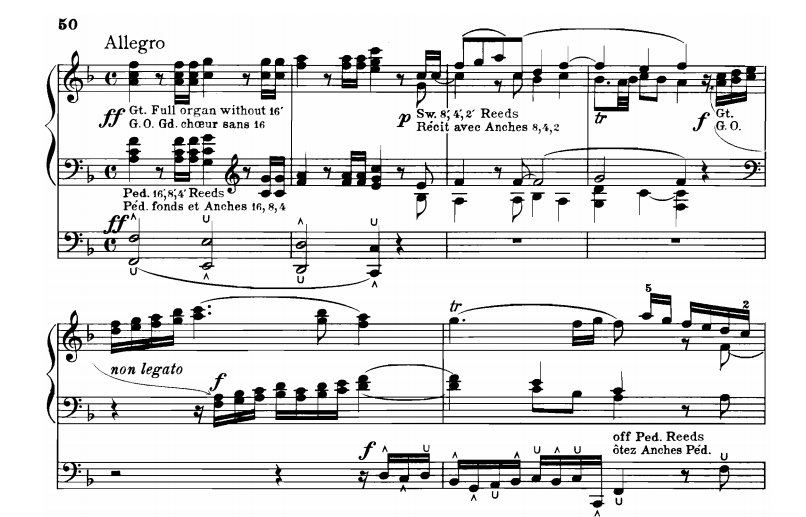 I think it's a bit weird that the guy in the video omitted the beginning and ending of this piece and just played the fun part. The reason I think it's weird is that this is a recording of a concert commemorating Mozart's death. But after listening to it just now it sounds like the recordist decided to only put the middle part in the video.
I told the groom the piece sounded like a handful and indeed it will require some intense prep. On the other hand, I don't feel pressure to learn it. I could easily say it would take more the time I have. Except, I love the piece and want to learn it. What could be better? I'll be getting paid to learn some music I like.
Rhonda loaned me some music sent to her from Germany.
I took it along to church and read through it yesterday. I admit that I didn't notice there were two composers represented, father and son.
I was a bit confused by the dates on the music but was so busy liking it that I didn't think too much about that.
So as you can see from their web site, Zsolt is the son and Zoltan is the deceased dad. Most of the music in the packet was by the son and I liked it quite a bit.
I was pleasantly surprised to see a German church composer setting a good old Murican hymn tune.
And then there was this.
Hommage to some great American Jazz composers/pianists. Cool.
So many thanks to Rhonda for turning me on to this stuff.
Speaking of Rhonda I stumbled across this video of her playing Barry Jordan's "Whistling Thirds."
Rhonda introduced me to Barry when he was visiting her. I stupidly didn't talk shop with him and now wish I had. Instead he has become a faithful online Scrabble opponent usually playing from Germany or South Africa.
I do dig playing global games of Scrabble. I also have games going with my quasi-son-in-law Matthew who lives in England.