I continue to put up half ass pictures on Facebooger. My Dad left behind thousands of slides. I would like to have them in digital format. I am currently using my phone and a slide viewer to convert them.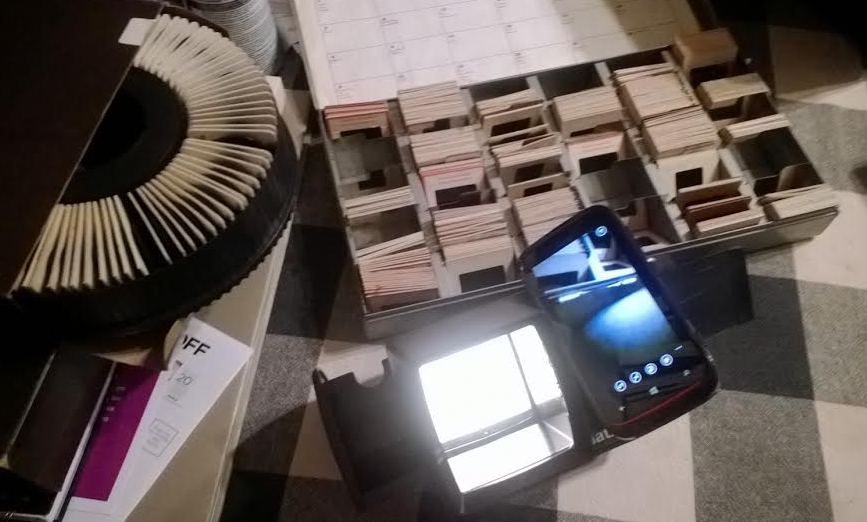 This is a lame procedure I know, but I haven't decided how to approach this process in a more effective way yet. That will probably involve some poking around on line which I haven't gotten around to.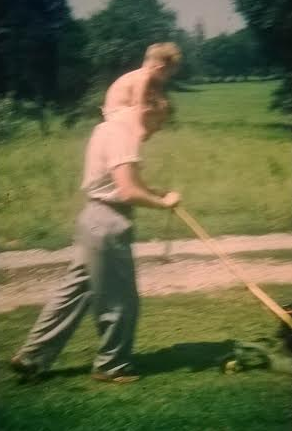 It is fun to throw up pics on Facebooger and get immediate feedback from viewers (mostly but not all family).
I had an interesting reconnection with a person yesterday. His name is Tim Pertler.
I knew him when my Dad was pastor at West Court Street Church of God, Flint Michigan. He is four years younger than me. He sent me a "friend request." (I do abhor this debasing of language but whatchagonnado?) I usually connect with anybody who tries to reach out to me (assuming they are real people and I have some kind of connection with them).
It turns out that Mr. Pertler is interested in the history of my Dad's denomination and specifically the church in Flint. I put up some pics that I otherwise didn't think would interest anyone with Mr. Pertler in mind.
Although I have little interest in this denomination I do think history and the keeping of history is interesting and would assist this dude however I can. My father and his father were both involved in the history of the Church of God. I have tons of info sitting around that might be pertinent to historical endeavors and would be glad to share. But we'll see. Often people flirt with ideas and stuff and then let it go.
I finished Murakami's 1Q84 yesterday. It is more tightly plotted than I remember some of his other novels being. I think I would classify it as romantic surrealism.
I am nearing the end of two other books I am reading: Cranmer by Diarmaid MacCulloch and A Secular Age by Charles Taylor. I am enjoying both of them, but the latter seems to speak directly to issues I think about regarding how we live now. Taylor is careful to examine issues of morality and belief and nobelief as even handedly as he can. That he even tries to do this is a breath of fresh air for me.
I'm closing today's blog with a lengthy quote. I encourage you to read it. We live in a time of hate and division. Taylor helps me understand both people I agree with and disagree with as well as myself.
A third pattern of motivation…  this time in the register of justice ….  [we can see it] today with the politically correct left, as well as the so-called 'Christian' right. We fight against injustices which cry out to heaven for vengeance. We are moved by a flaming indignation against these: racism, oppression, sexism, or leftist attacks on the family or Christian faith. This indignation comes to be fuelled by hatred for those who support and connive with these injustices; and this in turn is fed by our sense of superiority that we are not like these instruments and accomplices of evil. Soon we are blinded to the havoc we wreak around us. Our picture of the world has safely located all evil outside of us. We must never relent, but on the contrary double our energy, vie with each other in indignation and denunciation….

"Another tragic irony nests here. The stronger the sense of (often correctly identified) injustice, the more powerfully this pattern can become entrenched.  We become centres of hatred, generators of new modes of injustice on a greater scale, but we started with the most exquisite sense of wrong, the greatest passion for justice and equality and peace.

"A Buddhist acquaintance of mine from Thailand briefly visited the German Greens. He confessed to utter bewilderment. He thought he understood the goals of the party: peace between human beings, and a stance of respect and friendship by humans toward nature. But what astonished him was all the anger, the tone of denunciation, of hatred towards the established parties. These people didn't seem to see that the first step towards their goal wold have to involve stilling the anger and aggression in themselves. He couldn't understand what they were up to."