I can't resist another quote from a poem for the title of today's blog. I think it's witty in a silly way. It's from this poem:
Use Your Illusion
by Michael Robbins
It's a gorgeous day, not a bat in the sky.
The topography's square with the recon.
Contents may have shifted during rapture.
Let's put the Christ back in Xbox.
This baby is disgusting. Fuck you, baby.
Get a job. You have the worst taste in art.
A real Winston Churchill, this one. Your lot's loss?
So lose. Lose the attitude. Lose the dress.
I was saying something about a baby.
It had eleven dimensions, kind of
a dim bulb. The last of a tiny race.
Just a shadow on a milk carton now.
I saw myself in half then make myself
disappear. Maybe the other way round.
Let's hear it for my lovely assistant.
She's the lower half of my body, sawn.
I open the cabinet and poof she's gone.
*********
I like this guy so much I'm reading  Aliens Vs. Predator, the library book of his poetry I have a second time.
I noticed that I am reading two books each of which relates to one of the two countries my daughters are living in.
Capital by John Lanchester is about a fictional neighborhood in London and the people who live there. It takes place in 2007 and 2008. It draws wry portraits of several recognizable Brit types (all pretty rich): the widow living alone pretty much waiting to die (she's not rich), the unhappy financier and his horrible family, the football (soccer) star from Senegal and his dad, the spoiled young artist, the three Muslim brothers with varying degrees of devoutness who run the convenience store on the block. Everyone in the book is sketched with merciless accuracy. I am quite enjoying it. I'm about a third of the way into it.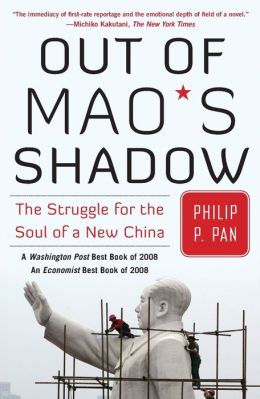 Out of Mao's Shadow by Philip P. Pan is one of several books I am interested in about China where my older daughter and her husband live. I'm over three quarters of the way through it. It is very informative in that the writer uses anecdotal stories about real people that illustrate what it's like to live in China. There's lots of frustration about trying to run a newspaper or report the SARS epidemic to the authorities in a country where the state controls so much. But the people are clearly and sympathetically drawn and once again I'm enjoying this one which my daughter and her husband have both read and recommended.
I have ended up buying and reading simultaneously two biographies of T. S. Eliot: one by Peter Ackroyd and one by the more scholarly Lyndall Gordon.
I fell into alternating chapters out of curiosity as they sort of began outlining similar material and I wanted to see the differences. Continuing to do so has been instructive. Ackroyd has a huge mind and knows tons of stuff. Both books are heavily documented.
Doing this with two biographies has made so much sense that I am planning to do so with two bios of Mao.
I started this biography a few years ago. My son-in-law said that it didn't have a good reputation as being scholarly. This seems weird to me because it also heavily documented. Of course the sources in this case are mostly originally in Chinese.
I cast about for something a bit more reputable and landed on Phillip Short's book.
I read enough into it to know I wanted to own it so I purchased a copy. Both books are waiting for me to return to them. I'm thinking of reading them the way I have been reading the T. S. Eliot bios. I was surprised that Short seems to be so oriented towards understanding China's recent history under Mao from Western sources. I think comparing the books as I read them might help me understand the story of Mao better than either one separately.
At any rate it will wait until I'm done with the Eliot books.
I notice that these two biographical subjects also represent the countries my daughters live in even though Eliot is American he is basically faux English and the bios take place mostly there.