Today is the 55th anniversary of Rosa Parks refusing to move on a bus.
Yesterday Congress failed to extend unemployment benefits to long term unemployed.  Mad politicians continue to tell cameras that rich people need low taxes.  Happy Holidays!
I'm working from the desktop today.  My power cord to my netbook seems to have finally bit the dust. Earlier in the day I stopped at a local computer shop (Computers and more) that used to be a good place for used computers. The whole shop had been refurbished to look more like the back aisles of Walmart, carpet on the floor,  many video games displayed.
The salesman courteously examined my cord and found a replacement. $60.00.  O yes, he said to my disbelieving smile, we sell 5 or 6 of these a day. I mentioned that I could probably get one online for much less and that with a hundred more dollars I could buy a new netbook which comes with one.  No they didn't have any used ones. And no, they didn't have any netbooks in the shop.  I thanked him and left.
Later I ordered two new ones online. Total cost including S & H: $37.96. Sheesh.
I have totally changed my mind about Skyscrapers of the Midwest.  I finished it yesterday and immediately began re-reading it.
Sure the main characters look  a lot like Fritz the Cat,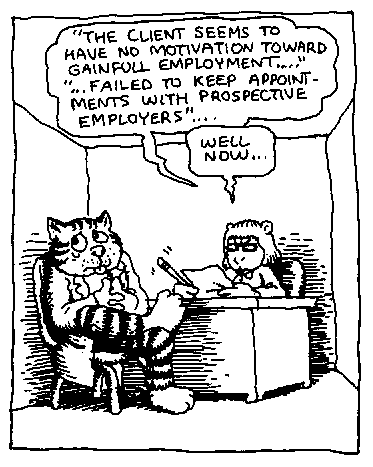 but Cotter is darkly funny and densely plotted.
Early in the story, the main characters (two brothers) visit their gramma. The visit goes from cheerful to totally weird and finally  the two boys check on their gramma in the kitchen and find that she is gone. Later in the story it seems she is dead.  The thing growing out of her back joins the odd parallel stories that strip away a layer of reality to reveal larger than life robots, locusts that carry migraine headaches for humans and severe righteous punishing half metallic cat-angels.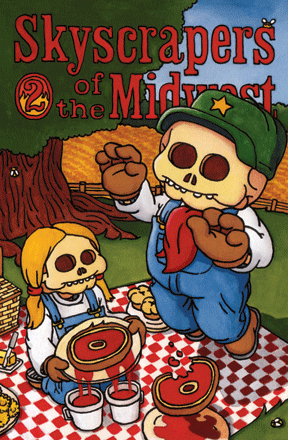 And then there are the skull people that seem to be representative of people in this universe.
The series of comic books carry adverts that point to the plot of the story.  The stories devolve into fantasies of young boys and even re-evolve into a Marvel type comic treatment of an incident in the plot at one point.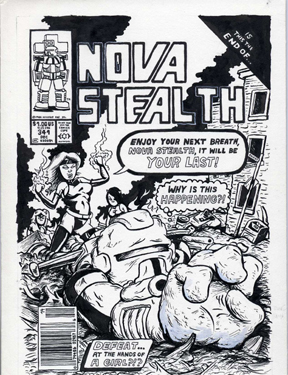 I am charmed. Recommended.