Eileen is at an Alto Breakfast. I have tasks today for the silly concert tomorrow. I am planning to write questions to ask the players in tomorrow's program and then email them to them so they won't be caught off guard. I basically have clear ideas about what I want to ask but have to put it into sentences.
I also want to post the program on Fakebook as well the poster for the next Grace Notes 2017 recital.
This doesn't work very well. It changed the margins.  I will have to mess with it later before putting it up on Fakebook.
Here's Rhonda's poster.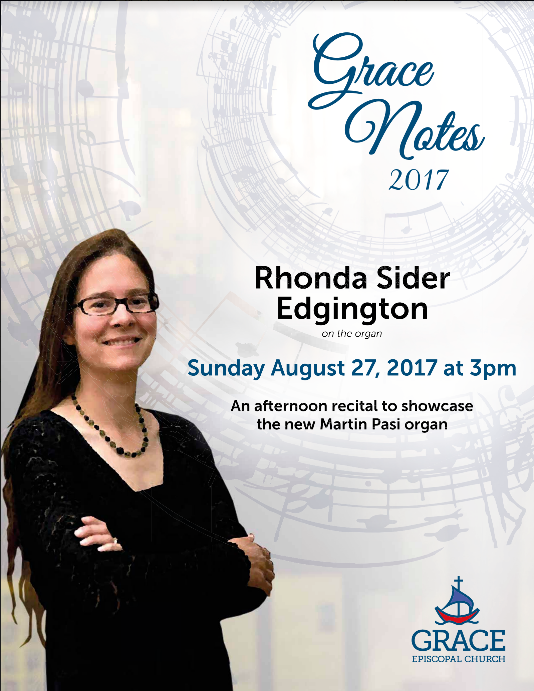 I still have to figure out how to get these on Fakebook. But that's later today.
I'm trying to understand my current mild stress. I am functioning well. That's the language I used with Rev Jen this week. But something is a bit off. My motivation is practically nil. Today I will spend all the time necessary to prepare for tomorrow. I will practice. Eileen and I will run through the organ demonstrator, "Hiker's Gear." We have gone through it a couple of times. Eileen is rocking on this. I will do the Fakebook tasks. I will post the hymns. All of this falls under the rubric of discipline but not delight, duty not delight.
On the other hand I have been enjoying my reading. I ordered real copies of two books today: Olio O by Tyehimba Jess and A Detroit Anthology edited by Anna Clark.
The opening essay in the latter, We Love Detroit, Even If You Don't by Aaron Foley, is quite charming. At one point, he writes "… guess what? We all live somewhere that's fucked up to some degree" and this really hit me. Holland has its own "fucked up" nature. Hope College is as much a detriment as an asset to the community in my opinion. And the class nature of the locals is entrenched.
I don't think I wrote about this here, but at our anniversary meal at Boatwerkes Waterfront restaurant we were denies window seats.  We were seated right across from the waitress station and just outside our window was the waitress station for the extensive outdoor seating. All of the seating at the front of the restaurant with the nice view were empty. We were there early, of course. Their policy is they don't have reservations. But they do reserve choice seating for their "winter customers." This was according to the Maitre D. I made up my mind not to ruin our meal by pointing any of this out to Eileen. But later we told each other that we had noticed that when we left there were still seats available. We could have been seated and none of the "winter customers" would have been denied a view.
I wondered if the fact that I was in a t shirt and shorts had anything to do with this treatment. I have noticed that there is a definitely a local culture that keeps people on the outside. That's pretty "fucked up," right?
I don't mean to complain. It's that big a deal. But it's helpful to read a Detroit author reminding me that though I live in a safer neighborhood here than we did when we lived in Detroit, we have not escaped a local "fucked up" scene, just traded it for a different brand. I do remember when first moved here I was taken aback at all the white people. It's a bit better now. But I don't think I've cracked the local code other than to realize there is one.
This was weird to read because the reporters followed an ICE team throughout areas where my son and his fam live: Riverside, Corona. It seemed somehow a bit more real to me for that reason.
So I've been using the New York Times app and it's browser version of "Today's Paper" back and forth on my tablet. I like the app presentation better. it includes comments which I cannot read on "Today's Paper."
This is made a bit harder because the headlines for the exact same story differ. I had to look back and forth by the writers names to find the same article in the two.
This is the "Today's Paper" version.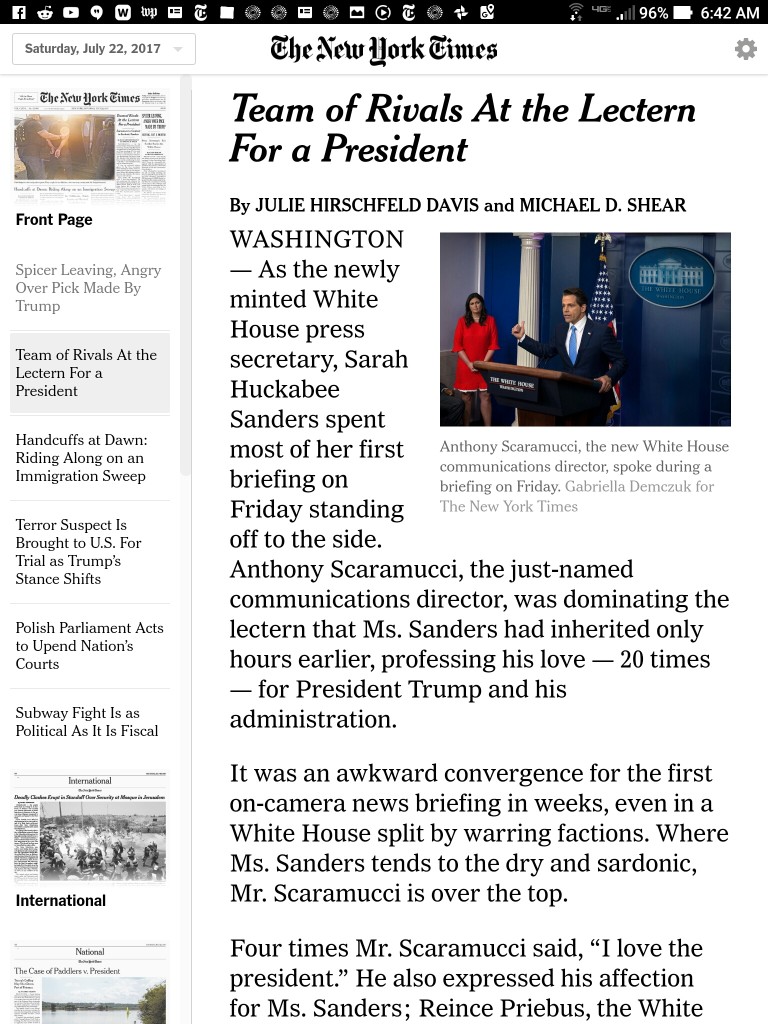 This is the app version of the exact same story.
Here's a link to a June article where they talk about writing headlnes.