Eileen spent a lot of her July fourth managing to undo all the damage from Saturday's harpsichord screw-up. She took the hair-dryer to the badly glued pieces and pried them apart successfully. Then she pulled off the old part that we have to re-use.
I find church such an odd experience.  I think it's largely being proximate to people who don't seem to be self-aware or that interested in socializing with me. And of course I share common interests or even life orientation with so few people these days. Probably part of growing older in America.
My playing went well. For the prelude,  I played a Jan Bender arrangement of the hymn tune we sang at the offertory (DUKE STREET – the usual words: "Jesus shall reign where e'er the sun" link to words.)
Bender was the only composition student of one of my heroes, Hugo Distler. (link to Bender bio)
Both men were suspect as far as the Nazis were concerned. Bender was arrested for "sabotaging" the organ at the church where he worked after one of the resident pastors (who apparently was sympathetic to the Nazis and for whom Bender refused to play…. the story is at the link above).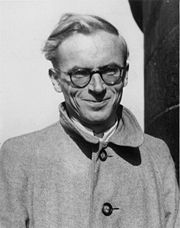 Distler committed suicide rather than serve in the Nazi army.
But both men were also involved with very interesting reform movements  in Germany. One sought to restore organ building to the standards of  the Baroque and pre-Baroque. Another was an early liturgical/worship reform that sought to raise ordinary church music back to the musical standards of the same era. Both of these movements were, of course, highly romantic and full of idealism. But they are both near and dear to my heart.
Bender's musical style resembles Distler's a bit. Both are dissonantly counterpuntal and cleverly composed.  Neither is all that easy to play.
All this is to say that once again I put my heart and soul into my organ music yesterday.
The postlude was a clever adaptation of the closing hymn we sang: another South African tune: "We are marching" sometimes referred to as Siyahamba which is Zulu for the title (link to wiki article).
I admire attempts to allow the organ to speak a more rhythmic and accessible pop language.  Robert Buckley Farlee does a respectable job of this in the piece I played.  Again not all that easy to play technically and musically. My brother the priest who is also a closet musician insisted that one of his music directors ruined Siyahamba by playing it as written. My brother maintained that the piece needed to be changed in order to be right. I kind of think that if one plays it accurately and musically the result is correct. My suspicion is that if his music person played accurately they didn't play musically and the effect of the hymn was destroyed.
Here's a couple of Youtube versions in case you're curious. The first one represents very closely the arrangement in the Episcopal resources and sounds a bit better to my ears:
The second is a more slick pop music production of the same piece. It probably sounds better to more people's ears than the big choral sound. It uses solo voices on the parts blending nicely but screwing up the piece by adding some weird notes later in the recording. But that's just my opinion.
I'd love to hear the following Zulu group sing this song. As it is I like this song they are singing better than Siyahamba.
Planning to do some cooking outside today. Probably grill fish and veggies and also seriously considering doing pesto pizza on the grill as well. That will take two shifts on our crappy old grill but I think it will work. Have invited my Mom over but she hasn't decided whether she is coming.
Hope to get a bit more done on the harpsichord and compositions today. Yesterday afternoon I left all the work to Eileen as I did my usual recuperation from the stress of work (church). I did finish a piano part for my Holy and emailed it out to some people whom I'm pretty sure could give me some constructive criticism if they so desired. I also posted it to the Grace Church Musicians Facebook group.
Here's a link to the pdf that I emailed and posted.  My idea was to compose a piano accompaniment that would exemplify to some extent the kind of loosely improvised accompaniment I actually hear for this piece. That way my learned musician friends can make an astute evaluation and criticism. Also I have a piano part ready for pianists who choose to play something as written instead of improvved.