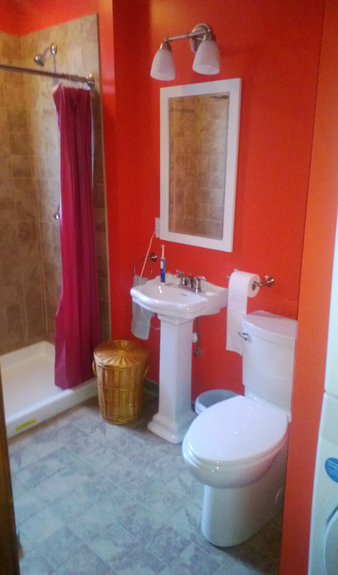 The new bathroom is finished and functional. I took my first shower in it last night. Eileen assembled a neat little cabinet she bought online.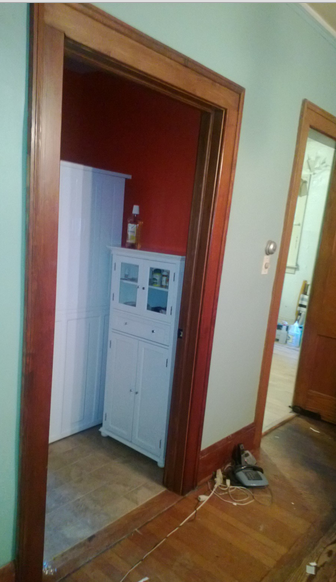 I couldn't believe she had the energy to do that last night after working all day.
Above is the "before" picture taken yesterday morning.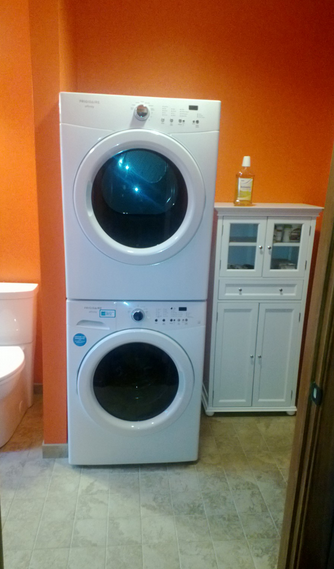 This is what it looks like this morning ("after").
The workmen also moved the refrigerator and stove across the kitchen to the new wall. I would put pics up of that, but it's so chaotic as to be depressing, so maybe after I get it cleaned up and organized.
Cleaning and organizing is now the big job. We have been living and working around not having access to the areas that were being worked on. This meant lots and lots of temporary stashing of stuff. Now to figure out how to best organize everything. A big job.
I finished reading Elizabeth Strout's Abide with Me yesterday.  It has one of those redemptive endings which unfortunately left me weeping sitting in the library's silent reading room. Ah well. I also cry at stupid movie endings. At any rate, the book starts out telling the story of Tyler Caskey, a young minister living alone with a troubled young daughter. We overhear his interior monologue as he seeks to serve in his first church in a small New England town.  Eventually the reader learns his wife has died recently. The book essentially tells the story of  how he moves to grieving this loss.
I liked this quote enough to jot it in my reading notes on this book:
"Anyone who has ever grieved knows that grieving carries with it a tremendous wear and tear to the body itself, never mind the soul. Loss is an assault; a certain exhaustion, as strong as the pull of the moon on the tides, needs to be allowed for eventually." p. 283
This book is a little religious for me. But as a guilty pleasure, I found it ultimately a rewarding read. Not as good as Olive Kitteridge by the same author.
I also finished McLuhan's Understanding Media this morning. I am planning to review all my notes on this book and make an extensive list of quotes and my own observations. Ultimately I think this book is very dated meditations of a literate man who has some insights most of which fall short of any deep understanding but certainly were more clearheaded about his topic than anyone else I know of that was writing at that time.
I may put up more later as I continue to thinking about this book.
I received an email from the  Hope college library that they now have available a Hope version of the Summons search engine.
I instantly searched for Christopher Small and found some interesting articles written since his death.  I spent the morning yesterday hiding from the workmen at church again, this time reading articles online about Small.
I love the interwebs.