The bad news is that the silly interview with Dobreff was a false alarm. According to him, they have no needs for teachers right now. Not sure if he took one look at me and made that up or if it's close to the truth.
The good news is that despite this discouraging news, I had a pretty good day. I got my Mom out for breakfast, did some composing and had  a good rehearsal at the organ on Sunday's stuff.
I have now turned my little piano piece with the working title, "Small Rain," into a trio. I mentioned this yesterday. Work on this is proceeding very well, although I can't see any practical performance for this work since I don't know a bassoonist, clarinetist or flutist right now.
Eileen and I splurged and ate out two nights in a row at the local pub. It was another beautiful day here in Holland Michigan. We couldn't resist the opportunity to sit outside and eat and drink in downtown Holland. I only had one martini since it was my second night out in a row. But I did try a Riesling made here in Michigan and was impressed. Usually I find Michigan wines not that attractive. Maybe the trick is to have a martini first. Heh.
I had scallops. I seem to be slipping into being a vegetarian who also eats fish. I'm doing this because I have lowered the amount of cheese and eggs in my diet considerably.
Anyway, we have got to curtail this going out to eat a bit. Ahem.
While I was waiting for Eileen to get home from work, I began reading Roddy Doyle's short story, "Ash." It appears in the May 24th issue of the New Yorker which was in my mail box when I got home from GR.[ Here's a link to the story].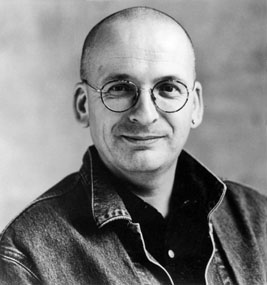 You remember Roddy Doyle. He wrote the book the move, "The Commitments, was based on.
Plus some other charming stuff. I like his writing and I liked this little story.
I also liked one of the poems in the new New Yorker: "Exhaust" by C.K. Williams. [link]