This morning I was reading in Arthur Kirsch's edition of Auden's poem, The Sea and the Mirror.
Kirsch points out that "Shakespeare may well have been thinking of the liturgy of All Souls' Day when he wrote The Tempest, and the play is in significant respects a meditation on death, which may be one reason why so many modern critics have found it essentially different from Shakespeare's other last plays and more perturbing, and why Auden, writing in a time of war, with its 'unmentionable odour of death,' should have found it so apposite."
"Apposite" as in "apt" that is.
So All Souls in my reading and All Saints at church this morning. I like it when these serendipitous connections occur in my life.
I have also been rereading The Tempest in order to understand Auden's poem in which he imagines  a series of monologues of all the characters immediately after the play.
This morning I smiled as I read the words of Prospero (the deposed Duke of Milan and a magician of sorts). "My library was dukedom enough." He is saying how he turned from the affairs of the state to the "liberal arts," these being his "study" and preference.
I feel that way often. That my library of words and sounds is certainly dukedom or even kingdom enough for me.
Yesterday, my friend Rhonda was kind enough to invite me over to have a meal with her and her family.
I got a little carried away with cooking for the meal.
I started out by peeling, bubing and boiling one of two pie pumpkins that have been sitting on my table. I purchased them with the idea I would make jack-o-lanterns out of them. I didn't get to it. This is the first year in a long time I didn't make jack-o-lanterns for Halloween. No harm done. We'll just eat them.
I purreed the results and made a pumpkin pie out of some of it.
I used the rest to improvise a pumpkin soup which I thought was quite good.
In addition, I made "Yellow Indian Woman Bean Dip" using a recipe provided by the woman who sold me the dried beans that came from her farm.
I had stopped at her stand at the Farmers Market to see if she had any dried garbanzo beans since I seem to be currently addicted to hummus and have resolved to quit buying commercial hummus and make my own.
She said Yellow Indian Woman Beans were much better. I thought I would make up her recipe and if I didn't like it add stuff like tahini and make it more hummus like. It tasted pretty good and so I took along for the meal. This is what's left.
Unfortunately, I dropped the pie while loading the car. It smeared on the pie holder but didn't spill.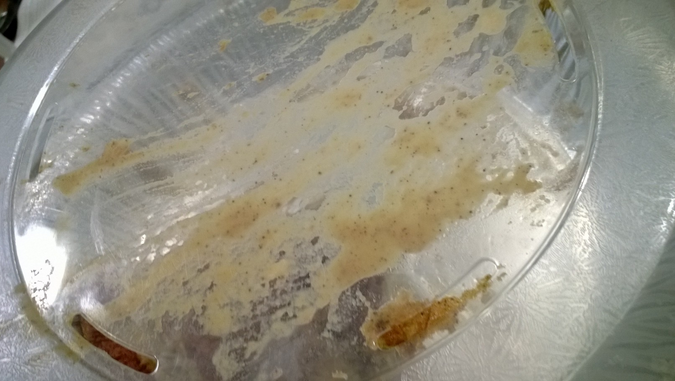 But it tasted pretty good and Rhonda and Mark were good-natured enough to try some.
I also separated and dried the seeds for roasting.
I have one pumpkin left.
I paid a dollar each for these guys. What a bargain.