The heat has let up a bit in Western Michigan this morning. It is quietly raining as the sun is beginning to gently light up the world here. I turned off all the ACs and opened windows to let the cool breeze blow through.
In addition to my morning reading, I analyzed the piece I am playing for the prelude Sunday, "Prelude on 'Land of Rest'" by Leo Sowerby.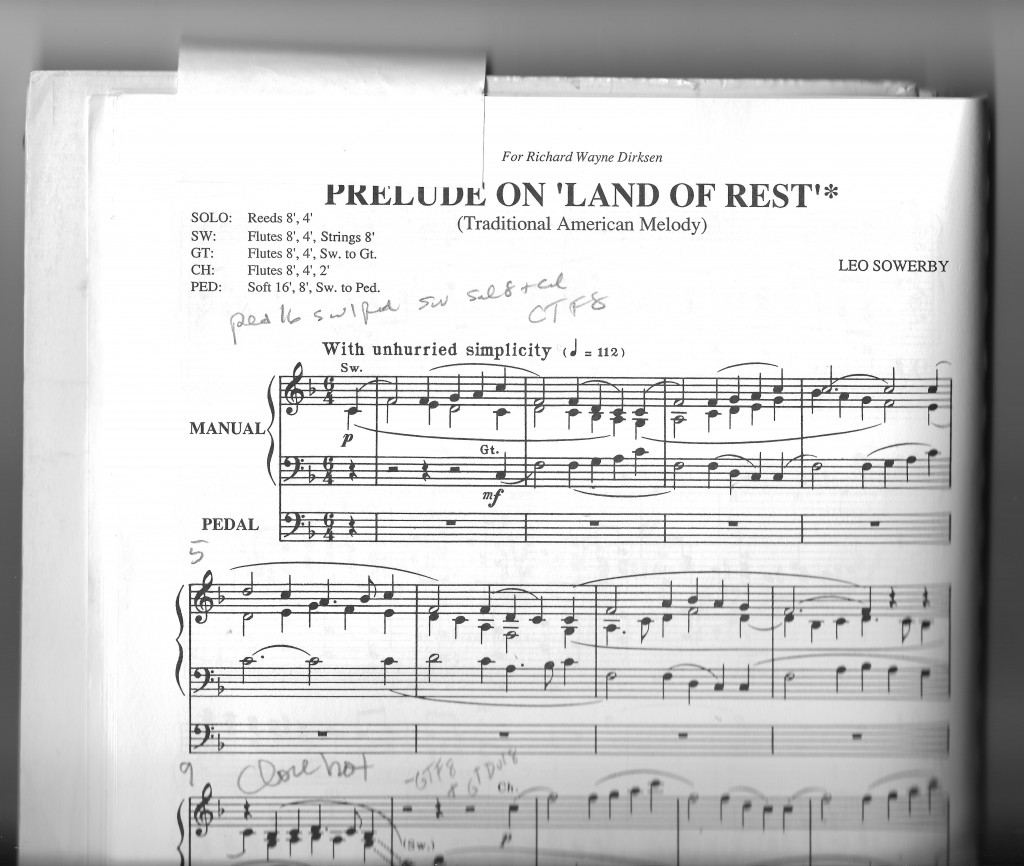 In this piece, I count 15 canons. A canon is like a very strict round ("Row, row, row your boat"). In Sowerby's piece, he neatly exploits the canonic nature of the hymn melody. In addition he adds some pretty elegant accompaniments and counter melodies.
I quite like the one that begins in the soprano voice in ms. 29 above.
About half way through the piece, he starts doing canons every three beats instead of six. It's pretty amazing that his original material effortlessly lends itself to this treatment. The climatic canon is a bare four part canon which is pretty interesting to do with two hands and two feet.
I spent another couple of hours on the piece yesterday. I think I have it pretty much registered (sounds chosen). I'm having problems figuring out page turns. This made more sense to me today when I discovered there are very few measures where canons are not happening. The trick with planning page turns is to find a moment when you can lift a hand from the keyboard. Not so easy when you've got two melodies going on.
I will probably corral someone to help with page turns Sunday.
I tangled with Spotify yesterday.
It kept telling me it couldn't play specific tracks I was trying to listen to while it was in offline mode. The trouble is I wasn't offline.
As I was doing this, I got an automatic email warning me my credit card on file with Spotify for the monthly charge was about to expire. I updated. No effect. I restarted my computer. No effect. I restarted it again. Then it worked. I love technology.
Yesterday I also finally went to the Farmers Market on a Wednesday morning this summer. I have been so busy that this has not been possible very much. I purchased heirloom tomatoes, chevre, and sweet cherries. Each person I bought from recognized me and chatted me up. I do like local.
Chevre is a mild goat cheese. Since the woman who wouldn't let me play next to her stand (years ago) hasn't been staffing the stall where they sell incredibly delicious local cheeses, I have felt better about stopping and purchasing their wares. I have used the chevre on toasted small slices of french bread topped with home made bruschetta. Ay yi yi.
My afternoon lesson canceled yesterday and I attacked the unbelievably messy side room we plan to convert into our bedroom for old age.  Didn't get much further than cleaning a corner and a path to the cluttered closet. But still, it was a beginning.
Today I have meeting with my excellent boss and a piano trio rehearsal. As my wife points out to me, my life is good. Extremely good.
*********************************************************************
Complex Emotions as Kateri Tekakwitha Is Named a Saint – NYTimes.com
I first ran into Kateri Tekakwitha in Leonard Cohen's novel, Beautiful Losers.
Since my library is such a mess I couldn't lay my hands on this novel yesterday.
Phrases from Leonard Cohen's poetry and prose seem to be permanently stuck in my brain.
Buffy Sainte-Marie made a song from the prose of Beautiful Losers. I used to own the album above which has this song on it.
When I met a young woman in high school whose first name was Kateri I developed a weird crush on her.
*********************************************************************
Alone in the Void – NYTimes.com
This author reminds the reader of the primitive nature of space travel.
Blowing stuff up under us is just about the only way we know how to travel through the void
Also that in the real world there's no such thing as "warp drive."
Good reminder.
A ballet dancer recently flashed this sign at me. Couldn't figure it out until I realized I had worn my Star Trek hat to class.
*********************************************************************