(N.B. the following blog entry has been corrected to reflect the fact that the author was confused about the musical, "The Pirates of Penzance," and the "Pirates of the Caribbean," the recent movie starring Johnny Depp) 
I was basically incommunicado all the while I was in Cornwall.
Even though the woman we were renting the cottage from mentioned wifi, it was such a hassle to get on that mostly I just tried to down load the NY Times to read.  I am guessing that foot deep stone walls do not help wifi reception. But it is kind of cool that they had wifi in such a rustic setting. 
We had to position our laptops just right in one window so that it would receive the weak wifi setting from the landlords.
While we were in Cornwall, we visited Penzance which was not far from our cottage. It took me a while to realize this was the Penzance of "Pirates of Penzance."
The Johnny Depp movie on Pirates hasn't really interested me all that much. The locals keep reference to the musical to a minimum in their advertising. I think I noticed it once or twice in the names of pubs or shops. That is of course when I realized the connection.
We played pool at a pub in Penzance our first night. Actually I just watched and Sarah, Matthew and Eileen took turns playing. 
The next day we drove to St. Ives. On the way we stopped at some ruins.
This area is full of large meadows with scruffy huge grass and interesting wild flowers.
I think they are mostly "moors" which as far as I can determine means that they have peat scattered about in the heather and such. Although everything looks desolate, this land has had humans on it for thousands of years. This means ruins can date back at a bewildering number of possible points in time. Our first ruins looked to me to probably have last been used during the the 18th or 17th centure. 
I have been reading in Wilkie Collins' "Rambles Beyond Railways or notes in Cornwall taken afoot." This is one of the many books I have in my mobipocket reader on my netbook.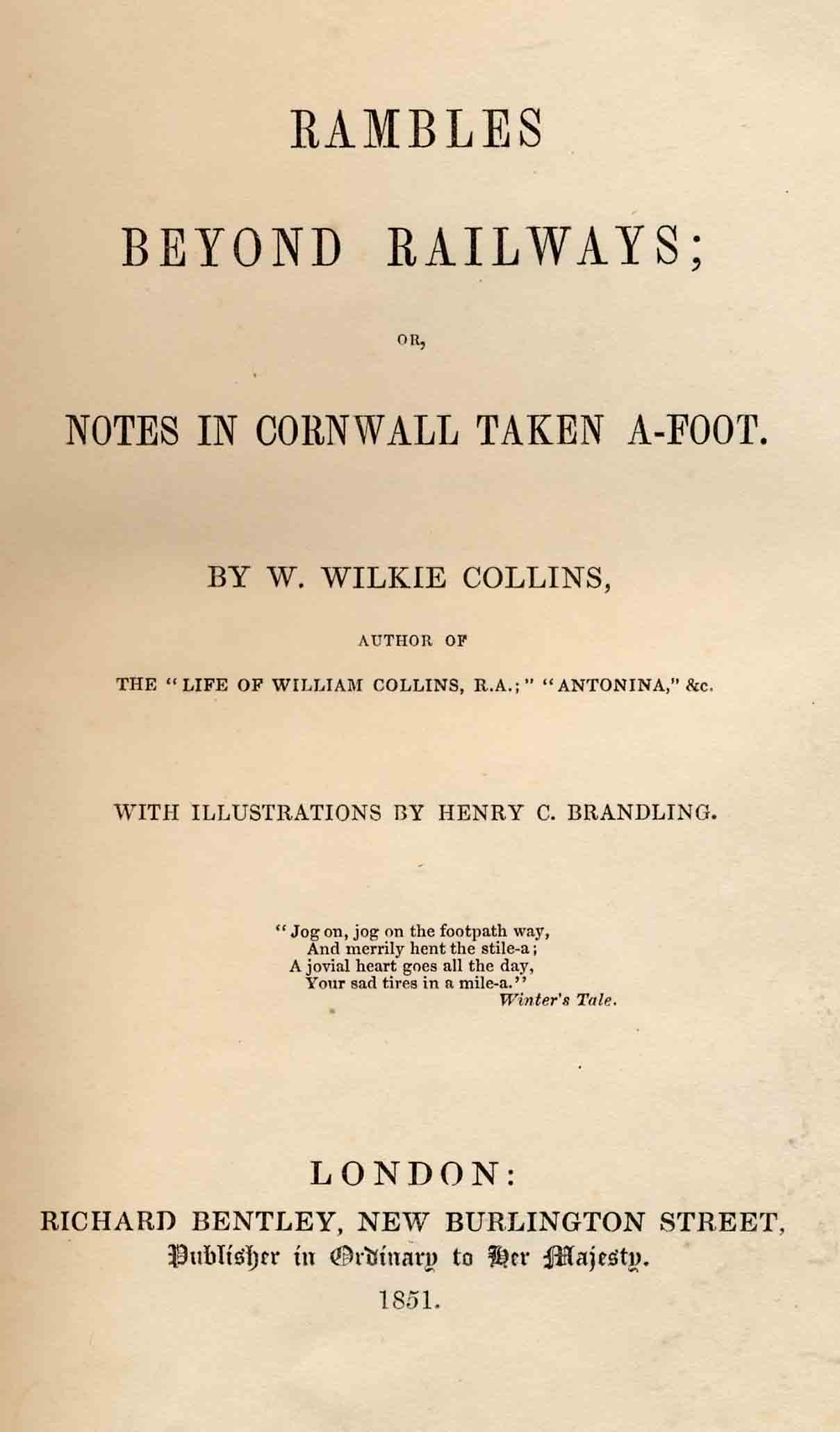 He mentions witnessing copper mines in Cornwall. 
All about us monstrous wheels were turning slowly; machinery was clanking and groaning in the hoarsest discords; invisible waters were pouring onward with a rushing sound; high above our heads, on skeleton platforms, iron chains clattered fast and fiercely over iron pulleys, and huge steam pumps puffed and gasped, and slowly raised and depressed their heavy black beams of wood. Far beneath the embankment on which we stood, men, women, and children were breaking and washing ore in a perfect marsh of copper-coloured mud and copper-coloured water. We had penetrated to the very centre of the noise, the bustle, and the population on the surface of a great mine.
I couldn't help but wonder if our ruins were the remains of something along that line.
From there to St. Ives. I should mention the roads. The road back to our cottage started out narrow and became more and more narrow as we proceeded. The brush on either side formed a pretty solid embankment. Matthew made an entire video of the ride which he threatens to put up on YouTube. I hope that he does. Sarah's love of driving came out in these whirlwind twisting little roads. 
Meeting another vehicle entails a bit of silent negotiation as to whom can pull to the side in the frequent small areas provided. 
Even the main roads throughout Cornwall are sometimes small and charming. 
At St. Ives we mostly shopped. I liked the looks of this little bakery and pulled out the camera and took some pics.
It occurs to me that this kind of blogging might be more fun after we get back. So more later, I guess.