Playing through Touzet piano pieces this morning. I listened to Maria Letona play some of these on CD Baby this morning.
I know she did her doctorate on Touzet, but still. I'm not sure she captures what I hear in these pieces. She plays some of them inexplicably fast (the dance I am thinking of is marked Moderato). Once again I find myself on the outside looking in and wondering what the heck is going on.
I'm still working my way through Levine's book on piano jazz. I am learning a lot actually. Not sure how much I can remember and apply but between Levine's book, Rob Hodson's book on Jazz Ensemble interaction and Nesinson's book on the death of Jazz, I'm beginning to make some sense of how a lot of people look at and perform Jazz. I have always wondered how Jazz keyboard players do it. In the past when I examine what they are playing exactly, it makes musical sense. I had no idea, however, how they arrive at their ideas besides innate musical talent (at least that was my conclusion).
Levine is demystifying Jazz chords for me. His explanations (and also Rob Hodson's) seem so simple and clear. And I sit down and transpose the patterns he teaches into all keys and then go through the tunes in the real books he suggests. I am able to see how to apply his ideas.
At the same time, I realize my musical world is a bit different from all this.
I trace my interest in Jazz through exposure to several specific musicians In the order I think I was exposed they are:
Charlie Parker
Dave Brubeck
Miles Davis
Duke Ellington.
I found out about Parker through a record my babysitter in Tenessee gave my parents.
I still have it. It's one of his recordings with orchestra accompaniment, lush and hokey. But Nisenson mentions these recordings as examples of Parker's best playing. Go figure.
Then I think I heard "Take Five" on the radio. I liked the idea of the time signature and kept my eyes open for Brubeck. I found some sheet music and fell in love with "Blue Rondo a la Turk." I still love this piece. I'm not sure it's exactly Jazz but I think it sounds good. Nisenson puts Brubeck in a "one of a kind" category. In other words, he can't exactly trace his influences and style with the tools that Jazz music historians use. Go figure.
Then I think I bought Mile Davis's "Bitches Brew." I think that was my first record of his that I bought. I know that I bought it largely on the cover at Kmart. Kmart was where i bought a lot of records. I seem to remember they were about five dollars and I had the money to do it once in a while. Several of these records ended up influencing my interest in music.

I bought Leonard Cohen's first record solely on the cover as well as "Strange Days" by the Doors.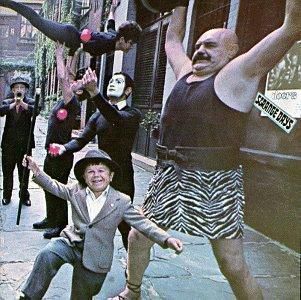 I don't remember anyone pointing me towards these, just being interested in their covers. Incidentally all of the covers above are the ones that I remember. I went upstairs and actually laid my hands on the old Parker record, as well as Bitches Brew.
Interestingly, I notice that I own a bunch of old Jazz music recordings. As I flipped through my old vinyls I could remember how the records sounded but not when I listened to them. So not only recordings by Ellington and Davis but also Coltrane, Django Reinhardt. I remember in a used shop north of Holten Lake purchasing a bunch of old Jazz records of Thelonious Monk and others. I still have these upstairs. I have a record player but not sure if it works. I should relisten to some of these.
I finished memorizing the first movement of the Haydn piano sonata I have been learning. This is one of his earlier pieces and doesn't exhibit the form that he and Mozart developed in the last 25 years of the 18th century. But it is one I like. Even though I can remember it all, I am still in the process of solidifying the recall. This is the first thing I can remember memorizing in a long time. It's been a great process and seems to fit in with what I am learning in the Piano Jazz theory books (believe it or don't).
I have an upcoming gig on June 8th at LemOnjeLlos. Lately my songs have not been all that interesting to me. I am working on a new song but it is coming slowly. I showed what I have so far to Eileen last night. She said she was surprised that it was an uptempo energetic song. Heh.
Right now I feel more interested in Touzet, Haydn, Bach (I have been playing through his G major English suite and loving it), Brahms and Jazz. But I'm sure I can pull a performance out of my hat. Especially since Jonathon Fegel will be calling the shots. He got the gig and invited me. Initially he said that if I was his warm-up act we could basically spread out over the whole evening. Not sure he's still thinking that way, but I will be prepared to do my part and hope that I will get to play with Jon and some other people in public.