Greg Palast (remember him?) blogs this today:
"Goodling testified that Gonzales' Chief of Staff, Kyle Sampson, perjured himself, lying to the committee in earlier testimony. The lie: Sampson denied Monica had told him about Tim Griffin's "involvement in 'caging' voters" in 2004.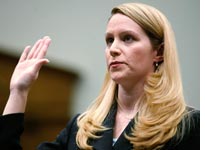 Huh?? Tim Griffin? "Caging"???
The perplexed committee members hadn't a clue – and asked no substantive questions about it thereafter. Karl Rove is still smiling. If the members had gotten the clue, and asked the right questions, they would have found "the keys to the kingdom," they thought they were looking for. They dangled right in front of their perplexed faces…"
"Our BBC team broke the story at the top of the nightly news everywhere on the planet – except the USA – only because America's news networks simply refused to cover this evidence of the electoral coup d'etat that chose our President in 2004.
Here's how caging worked, and along with Griffin's thoughtful emails themselves you'll understand it all in no time.
The Bush-Cheney operatives sent hundreds of thousands of letters marked "Do not forward" to voters' homes. Letters returned ("caged") were used as evidence to block these voters' right to cast a ballot on grounds they were registered at phony addresses. Who were the evil fakers? Homeless men, students on vacation and – you got to love this – American soldiers. Oh yeah: most of them are Black voters.
Why weren't these African-American voters home when the Republican letters arrived? The homeless men were on park benches, the students were on vacation – and the soldiers were overseas. Go to Baghdad, lose your vote. Mission Accomplished.
How do I know? I have the caging lists…"
the whole story here.