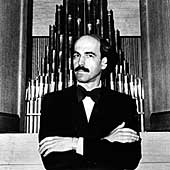 In the midst of my busy day yesterday I rehearsed Calvin Hampton's organ piece, "An Exalted Ritual," from "Five Dances for Organ." The Dances is one of 8 volumes of his organ work I recently ordered.
Hampton was an early AIDS death in 1984. He lived, performed and composed in New York City. I know him best as a composer of hymn tunes and some choral music. He has four lovely hymn tunes in the Episcopal Hymnal, The Hymnal 1982. This includes his haunting setting of "There's a Wideness in God's Mercy."
Four years after his death, a man named Wayne Leupold began a small publishing company in Cazenovia, New York. All of the editions of Hampton I have purchased are published by Wayne Leupold Editions. The copyrights on them range from 1992 to 2006. Obviously he is issuing Hampton's work posthumously.
Hampton's music is quietly out of fashion of the 20th century. It is imaginative, tonal, and often beautiful. The craftsmanship of the music is carefully worked out. At the same time, Hampton allowed himself to utilize the harmonies and musical style of  popular music (especially musical theater) while retaining a clear hold on the what he was trying to convey.
An "Exalted Ritual" is a trio. The pedal is an ostinato (a repeated pattern) of octaves that jumps from high to low in a hypnotic constant way. The melody (Hampton marks it the "theme") is long notes interrupted by a beautiful echoing simple pattern that utilizes a simple modal statement that sounds very poppy to my ears even though I easily identify that the entire pieces as based on mixolydian scales.
The third voice also uses the same rhythm over and over like the pedal. The rhythm is an tricky procession of a quick six note pattern, then a four note pattern that takes place in the same interval as the six. This is followed each time by two very slow triplets. All of this interlocks with the other two voices, but wanders through many incarnations of the basic modal pattern of the piece (the mixolydian mode in different keys) in what Hampton has marked an "obbligato."
Learning the piece is like studying an etude in cross rhythms. It's kind of fun. Then it occurred to me how beautiful the piece actually sounds. I am intrigued.
I look forward to learning and performing more music by this Episcopalian composer.
One of the pieces I purchased is a set of variations on Old Hundredth (the melody of the Doxology or "Praise God from Whom All Blessing Flow").
The virtuoso organist, Cherry Rhodes, has written a very interesting introduction to this piece in which she describes her interaction with Hampton around its first performance.
"I was absolutely mesmerized by the highly colorful music and told Calvin I wanted to perform it. Yet, there was something missing. "But Calvin," I asked with a smile so as not to offend my esteemed colleague and friend, "where's the pedal variation?" As he slowly straightened himself up, a determined and steely look appeared in his eyes. He emphatically exclaimed, "Cherry, I'll write you one you'll never forget!" I was really in for it now. The wagers between Max Reger and Karl Straube flashed through my mind. Because Calvin so quickly acquiesced to my request, I greedily asked for another, "How would you feel about writing a harmonization of the tune?" He readily agreed."

Cherry Rhodes, in her Introduction to her edition of Hampton's "Prelude and Variations on OLD HUNDREDTH."
Later when he presented with not two but three more variations, he told her they would remain unpublished as a special gift and tribute to her. This piece was his first published organ work (1975) and did not include them. The edition I have next to my computer is marked "Second Edition." It includes these three sections.Rhodes affection and admiration are very apparent in her introduction which she ends "VIVA CALVIN!"
Besides obsessing over Hampton's organ music yesterday, I managed to
get my Mom to the doctor;
drive her to a breakfast at the Wooden Shoe (her treat. Thanks, Mom!);
phone her lawyer about the sale of her home in Fenton;
rehearse Sunday's instrumental music with the violinist, oboist and cellist;
finish up this rehearsal by playing through two Mozart piano trio movements (one of which we was a new one we sight read for fun and it WAS fun);
read in Peter Ackroyd's novel, English Music;
make baked pears and roasted Brussels sprouts (both from the local farmer's market, yum!);
have a lovely relaxed meal with my lovely relaxed wife;
drive off to Grand Haven for a two hour pit orchestra rehearsal of "The Beauty and The Beast";
come home & have a martini and read the New Yorker.
Goodness gracious, my life is good!