I was thinking this morning that I have connections to people from many times and areas in my life on Facebook. Beginning with my high school, which I guess is not all that unusual. But I also have some from each of the universities I attended: Ohio Wesleyan, Wayne State and Notre Dame.  Colleagues since graduate school.
People from the Lutheran church I worked for a while. People from the church I work at now. Strangely no people from the Roman Catholic church where I worked for the longest locally here in Holland.
Quite a group of people I met as high school students here in Holland. Most if not of all of these are musicians. Several are musician I accompanied for Solo and Ensemble Festival.
I have at least one student from my teaching stint at Grand Valley State University.
Then there is family and extended family.  There are one or two I can't place. Ahem. But most of my currently 135 friends on Facebook are easy for me to figure out how I am connected to them.
This contradicts the notion that I have had for a while that I am a bit of a hermit. I notice that Eileen and I have had a bit more social contact with people this summer. Interesting. I know I now value this thing much higher than I used. At least I'm more conscious of it.
I exhausted myself yesterday preparing blueberries and pesto for freezing.
I froze ten pounds of blueberries and about 5 cups of pesto (which was made from ten bunches of basil)
I also finished playing through Bach's Goldberg Variations yesterday.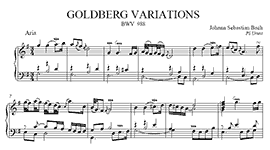 There are thirty variations. Bach suggested that one begin and end with the aria which is the theme. This makes a neat 32 sections.
Very musical number since the theme and (logically) most of the variations are made up of 32 measures representing four phrases of 8 measures.
Variations  3, 9, 21, 30 have 16 measures. And interestingly variation 16 which has its own 16 measure a la breve (cut time) "overture" then continues on with  32 measures of a 3/8 variation.
Bach liked numbers. Can you tell?
I'm not sure I have ever sat down and played straight through these before.  As I played through them, I observed Bach's written repeats and repeated each section.
I guess in the last decade or so, I have consciously read all the way through works. I have played through both volumes of the Well Tempered Clavier of Bach. All of Hadyn's piano sonatas. I am working my way through Scarlatti's 500 Essercizi.  I just checked and I'm up to number 157 in volume four. I know I have played through the first half of Beethoven's piano sonatas. I think I have also played through the second. But starting especially with Beethoven I have to take some of these very very slowly in order to play them since with Beethoven the keyboard technique starts to get quite involved.
At least it's "involved" for me.
This all began years ago when I purchased my harpsichord kit. In the instructional manual, it suggested several volumes of harpsichord music one might want to own. One of these was the Dover edition of Bach's suites and  inventions.
This volume also contains the Goldberg Variations. It is forty years later and I just finished playing through the Goldbergs using my second copy of this same edition.
When I first got the book,  much of the music was beyond me. I was mostly self taught at that point. Later I studied pieces found in this book (mostly but not all in better editions).
Recently it has occurred to me that many listeners aren't too impressed with my playing abilities.
Granted comparing my playing to the people on most classical recordings is laughable.
I have a good solid under graduate piano technique. My harpsichord and organ technique is more advanced. This accurately reflects my years of study. Although my piano technique has improved quite a bit in my fifties. Practice is what does it.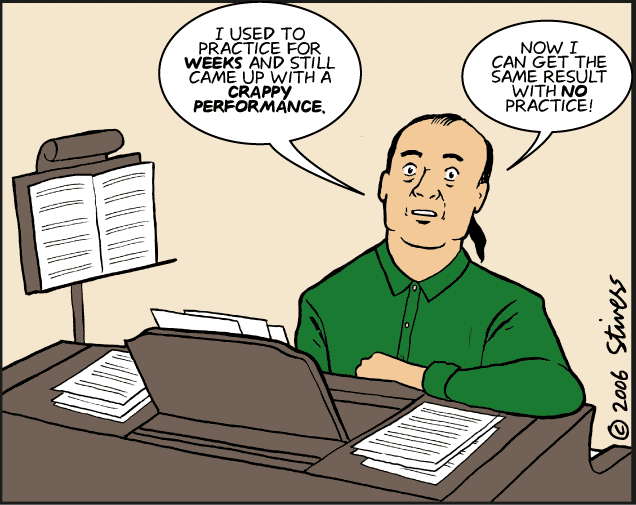 But still I'm not the player that many pianists are. This is okay with me because I continue to improve. I know that I am among my own harshest critics, probably numero uno.  And I do see myself more as a composer and improviser than a piano technical wunderkind or even wunderoldguy.
Interestingly, Gyrogy Sebok, the renowned Hungarian pianist and pedagogist is quoted in Gyorgy Sebok: Words from a Master saying "Music is the cure for technique."
However I think he was directing this thought to people who think a lot more about their piano technique than I do. They probably have more and actually block their playing a bit with too much thinking about it.
I read about this book on Susan Tomes excellent piano blog (link) and promptly ordered my own copy. I love books like this. It's sort of like eavesdropping on a piano master class.
Susan Tomes has a blog worth reading. She is a pianist and writer. http://www.susantomes.com/