I took my camera to church and to a cookout with Eileen's brothers and sisters yesterday.
I put up pictures on Facebook (church pics link, fam pics link). But not the two above. I obviously had help with the church pics. John Shea took the ones of me. He also showed me how to turn the flash off my camera and get better pics.  Cool.
I used organ for the entire church service yesterday.
The piano is out of tune.
I would like to use Jordan V. on some cool Bach flute sonatas played on the soprano sax next week. He and I are meeting today to rehearse, so I will find out if this works for him.
I played okay yesterday.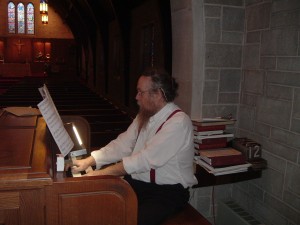 The congregational response was pretty tepid especially on the rousing closing South African closing hymn, "Halleluyah, we sing your praises." I had to smile when after mumbling the closing hymn, the congregational energy surged loudly as people enthusiastically greeted each other immediately after the final blessing. It's such a conundrum to get that particular energy in their shared prayer.  And of course my delicate little postlude was sort of lost in this energy. There also seemed to be some shouting during the prelude. It is interesting how people don't seem to notice there is music going on and that their shouting is competition with it. I guess the prelude got a little too loud for them to have a conversation. This was in the back of the church and probably was between people who were greeting and preparing to lead the service.
We had a wandering visitor who sat in about ten different places during the course of the service. He left the room several times as well both going into the coffee area and slipping out the back side door. At one point he was standing in the back with a cup of coffee (which he left on the piano of course). Church services are by nature public and all are welcome, so this kind of behavior does occur once in a while. I see it as a kind of test of the community. We passed. People greeted this guy during the peace and we gave him our visitor mug.
I have spent my professional life trying to convince people they can pray with their bodies and voices.  With varying degrees of success. Heh.
I think I have the usual church musician monday blues this morning.
This morning I want to finish score prep for the Aug 5th gig. I think I have nailed down the playlist (link to page on upcoming gigs). The biggest project was "Come Creator" and I have that basically done. I just need to tidy it up and extract the parts.  I also want to finish "sweetner" string parts for my song, "So Many People," and write out a sax riff for "Tombstone Blues" by Bob Dylan.
I would dearly like to get hold of a crappy little PA for rehearsals. Dealing with this many musicians, the vocals get lost in rehearsal without it. Unfortunately, this involves more monetary outlay. I played a wedding Saturday and I should get a check this week from my dance camp and I'm giving a piano lesson. This might all add up to enough bucks to buy something used or very small.
Last night we didn't turn on the AC to sleep. First time in a while. It's a bit cooler in Michigan today. Very pleasant this morning.  Here's a picture of one Eileen's lovely flowers she has growing in front of our house. Couldn't resist taking it at the end of my walk home from church yesterday.