It is taking me more time to recuperate from Easter. Part of this is aging I am sure. I do find that I need more rest to come up with bursts of energy I use to do my stuff. I remember my father commenting about this when he was my age.
In spite of this life is good.
Last night Eileen and I heard the Emerson String Quartet perform three quartets, Mozart's K. 499, Shostakovich's Op. 133 and Beethoven's Opus 59, no. 1.
I found the performance pretty amazing. Probably one of the best live performances I have heard in recent years. Consummate musicianship, technically excellent and complete engagement in the music they were playing, these four men gave Holland a performance like we were a world class venue. As my friend Rhonda who sat with Eileen and me said, they didn't "phone it in."
Mozart is always charming for me. And I love Shostakovich. Though I didn't know this quartet it was loads of fun to listen to.
I recognized the Beethoven immediately.
I had thought that the Emerson Quartet was the first recording I have (and still have) of Bartok's string quartets on vinyl. I came home and checked and this recording is by the Fine Arts String Quartet.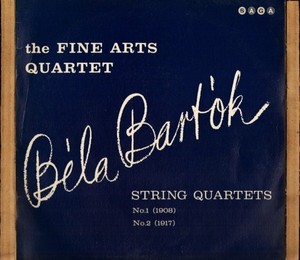 I do own a recording of these by the Emerson Quartet. But it's on CD.
Mystery solved.
The last movement of the Beethoven got me thinking. I got up this morning and started working on understanding just what Beethoven was up to compositionally in this piece. It's called "Thème Russ: Allegro" which I assume means something like "Russian Theme." It has a couple very lively themes and one lyrical one. I thought that maybe it was in a dance form and I missed it. But my first response to it on paper this morning is that it is a subtle sonata allegro form. Beethoven is always rewarding to pick apart in this way.
Earlier in the day I forced myself to go to the college library and look at the book sale. I bought several pieces of organ music all of which are now laying on the organ at work. I also bought books.
Speaking of Emerson, the book on the right is Ralph Waldo Emerson's Reading: A Guide for Source-Hunters and Scholars To the One Thousand volumes Which He Withdrew from Libraries by Kenneth Walter Cameron. How cool is that?
I'm running out of time again since I have an 8:30 class. But you can see that my life is good.
Eileen and I had a relaxing meal before last night's concert. Note martini for Steve. I am spoiled.