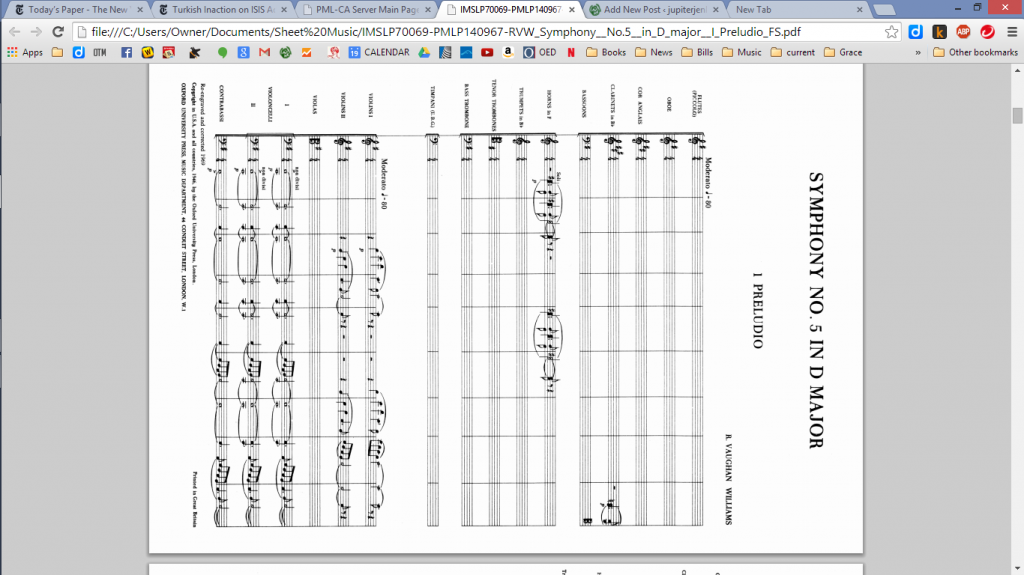 This morning I discovered that the Adobe PDF plug in on Chrome allows one to flip the page. This enabled me to look at a full score sideways. Helpful. I listened to the entire first movement of Vaughan William's Symphony No. 5 following the score.
I have been thinking about Vaughan Williams a lot for some reason. I enjoy listening to his music. It does remind me of movie music but I still like it a lot. In fact he did write film scores. For example his Seventh Symphony (Antartica) was actually composed for a movie. It's one of my favorite even though I know it's use of an "ahhhing' soprano is pretty hokey.
When I like something musically, I usually wonder how it works and if or how that contributes to my attraction. Studying a score can be helpful as well as actually playing through the piece (if possible).
The way Vaughan Williams moves through keys and comes up with simple but ravishing (to me anyway) musical ideas fascinates me.
I can't quite figure out why the score to his Fifth symphony is sitting online. It was copyrighted in 1946 and re-engraved and corrected in 1969. But I'm not complaining. Once again the magic of the interwebs allows this eccentric quick access to stuff.
When I went back to get the link just now, I noticed it says that it's only Public Domain in Canada (weird). For some reason it still allowed me to download it and then opened it up in a Chrome tab.
My early class canceled yesterday (the teacher was sick). Although this allowed me to not have to rush over to the Farmers Market before 8:30, it kind of threw my day off kilter. My first class at 11 AM didn't go very well from my point of view. I wasn't happy with my improvs. I wondered if it was related to spending time composing the day before. Probably not, but I don't really know how this stuff works for me.
I redeemed myself in my own eyes at my 2 PM class with decent improvisations.
I was laying in bed thinking this morning about an AGO questionnaire I filled out online yesterday. It asked about the AGO certification exams and whether one had taken any of them. A separate question asked if one held any of the subsequent credentials one receives if one passes.
I have taken the AAGO exam twice I believe. The first time I didn't have passing scores. The second time I did but ironically failed one little section which disqualified from the certificate. The irony is that it was a modulation that completely did meet the approval of one judge who gave me no credit which lowered the combined score below 75% or whatever failing was.
And I think that improvisation is one of my strengths.
But I hesitate to do much bragging. I think of an organist I knew in Detroit. He was very unskilled. I'm not sure he could read bass clef since he seemed to chord everything. He was, of course, an active church musician.
When I resigned my post in Trenton, he auditioned. I sat in on his interview. He told the committee that he wasn't that great a player, but he played a mean service.
It was one of his strengths.
P.S. As I was proofing this blog entry this morning, I realized that it and my daily email to my absent wife fill a need I have for conversation. I sometimes wonder what it would be like to be a character in one of those post apocalyptic novels where only one person survives. I read one once where the survivor was also a pianist and realized that his rendition of Beethoven piano sonatas was now the current definitive one since it was the only one. I read one once where the survivor was also a pianist and realized that his rendition of Beethoven piano sonatas was now the current definitive one since it was the only one.Silly. But likewise I found myself thinking I must remember that even when no one is there to read my emails or blogs they are still fulfilling my own need for substantive conversation.
Cheers!