I am up early this morning doing dishes and laundry. I need to prep the Psalm for Advent II to take along to ballet so I can work on it in between classes. I would like to have both it and "Vito's Ordination" ready to use this evening. In the case of the latter tune, my goal is to introduce the choir to the basic tune this evening. I am beginning to wonder if the notated pop rhythms might be hard for my literate crew. I guess we'll see.
All this means I have less time than usual this morning before work for blogging. I read a chapter of Greek out loud and listened to Dylan Thomas while I washed dishes. I quickly read a bit in the bio of Mao I am reading. I think of these as morning ablutions. Literally washing my brains out a bit before facing other humans.
Eileen and I went over and looked at Mom yesterday. She had another fall. No physical harm done but of course we are concerned. I made an appointment with her psychologist since we seem to have fallen off their radar due to cancellations. He mainly monitors her mood meds. I don't think they are what's going on with her but it doesn't hurt to have him look her over since her condition seems to be deteriorating slightly. Her doctor has ordered in home physical therapy which has begun. They are evaluating her probably to see if her care is sufficient. One of the nurses yesterday told me that workers are helping her get to the bathroom at night if she rings.
We are hosting some of Eileen's fam for Thanksgiving tomorrow. We have an interesting history with this extended group. Eileen's parents rejected our marriage and did not attend our wedding. Since her dad died, her mom has done a bit more reaching out to her. But inevitably connecting with them is a bit stressful complicated by the fact that despite efforts to accept me most of Eileen's fam finds me an anomaly (sound familiar?… Mister Outsider…. Jenkins stuff).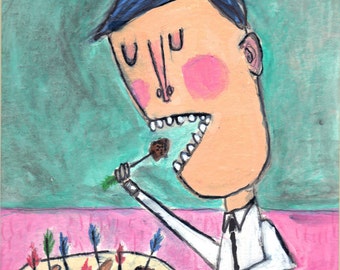 So Eileen and I have been  madly preparing for this. We initially said we would stay in Holland so my Mom could come over for Thanksgiving. That doesn't look like it's going to happen. Eileen called her friend Barb yesterday to find out if we could do Thanksgiving in Whitehall (where her Mom is). Barb said she could. So Eileen called her sister and discussed what would be best for Dorothy her mom. Apparently it will be better to go with plan A, so that's the plan Back to cleaning.
I'm about half way through For the Time Being by Ruth Ozeki. It is an amazing work. Ruth Ozeki is a Zen Buddhist priest according to the blurb on the back. The book is a maze of references to time and Buddhism replete with a large dose of pop Japanese Manga culture. I love reading books that seem to be happening in the same world I am living. By that I mean the interwebs and other modern stuff as well as the foreboding of the coming of the end of humans on the planet due to our own stupid preoccupation with carbon based fuels.
This would be funny if it wasn't so evil. Last sentence of the article is illuminating: "The president's remarks on Monday came a week after he claimed that the Americas were discovered by Muslims at least 300 years before Columbus."
Comparing the number of states where same-sex marriage is legal to the ones where interracial marriage was legal and other issues before the Supremes ruled. A tipping point?