I began this day as I often do by reading poetry. I have been reading snippets of John Donne lately.
According to Wikipedia Donne commissioned this portrait of himself "as he expected to appear when he rose from the Apocalypse." He hung it on his wall to remind him of the transience of life.
From his first Satire:
"…… doubt wisely, in strange way
To stand inquiring right, is not  to stray;
To sleepe, or runne wrong, is;….

"To will, implyes delay, therefore now doe."
I seemed to have underlined this passage as a young man… "Therefore now doe" could almost be a motto for me. I believe we are more the sum of our actions than our thoughts and words.
I think I am attracted to Donne and Dylan Thomas because of the outlandishness of the juxtaposition of images they use.
The Scarlatti I played at church came off pretty well yesterday. The piano piece (K. 135) stretched me a bit.
The beginning cross-hands passage could have used a bit more time and rehearsal.
Minutes before performing it found me still rehearsing it in the choir room.
I admit it unnerves me a bit to perform in front of professors some of whom are decidedly unsympathetic, keep me at a distance and rarely comment on my work.
College competitiveness has been the bane of my life and done more damage than good in my experience. But it may be these are just the observations of a hack.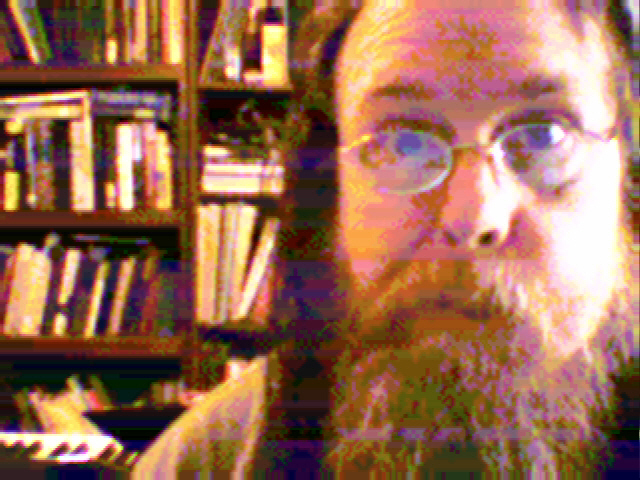 Anyway, there were many musical moments in both Scarlatti pieces I performed. The noise during the postlude was louder than usual yesterday. So I thought, heck, no one is paying that much attention I'll just take the repeats since I like the piece so much.
One parishioner did mention to me that she loved the Scarlatti. I was flattered she noticed.
Another parishioner asked me if I wrote the accompaniment to the second verse of "Morning Has Broken." He said he could hear the "sweet rain's new fall" in it. I thanked him and told him it was improvised to help people notice the words they are singing.
Tomorrow morning Eileen and I will drive away for one evening in a cottage by the lake. I really haven't had a lot of time off this summer. It was by choice. But I still feel twinges of burnout. My ballet schedule starts next week.  Not dancing,  playing piano for classes. I guess it's the end of my summer.
*********************************************************************
Humble Service With a Side of Swag – NYTimes.com
Frank Bruni speculates about what goes on inside politicians.
*********************************************************************
Secrecy – A Sanctuary in a Transparent World – NYTimes.com
July Salmon, the biographer of Wendy Wasserstein (who traded on the stories of her life but still managed to keep some secrets) ponders secrecy, privacy and transparency. I have an aversion to family secrets due to my take on family system psychology. On the other hand I also think people's privacy should be respected. Whatchagonnado?
*********************************************************************
Jews in a Whisper – NYTimes.com
I continue to be amazed at the insidiousness of intolerance in all our lives. Roger Cohen writes about how people lower their voice when they talk about Jews in England, even when they themselves are Jewish.
********************************************************************