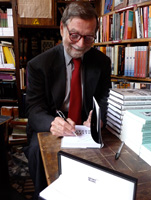 I was actually in the book business for a few years.  I still enjoy listening to insiders talk about publishing and books.
Sunday evening I was trying to relax a bit so I listened to Andre Schriffin be interviewed on C-Span.
Schiffrin was director of the publisher, Pantheon, which brought Pasternak and Foucault to English readers.
In the C-Span interview, he discussed how publishing has changed and how it works to the advantage of people who want to control or stop the flow new ideas.
I enjoyed his ideas on several levels. He is a book person. He is cosmopolitan.  I share some of his political ideas. And last he gave the impression of someone who knows stuff but also knows that he is not relevant to people who aren't aware of history and words.
So of course he is now on my list of thinkers to check out.
In between taking care of my wife and all the other things I have been doing, I have been organizing my composition files. I think I have figured out a way to put these hundreds of files in folders on my exterior hard drive where I will be able to access them.
It's a good mindless-type task.
Eileen continues to mend, feeling a bit better everyday.  I will be driving up to Grand Haven this afternoon for another round of rehearsals with the young singers I will be accompanying in a recital and Solo and Ensemble festival. Plus my 8:30 AM ballet class this morning.
In between I will be making sure Eileen has what she needs.
Life goes on.