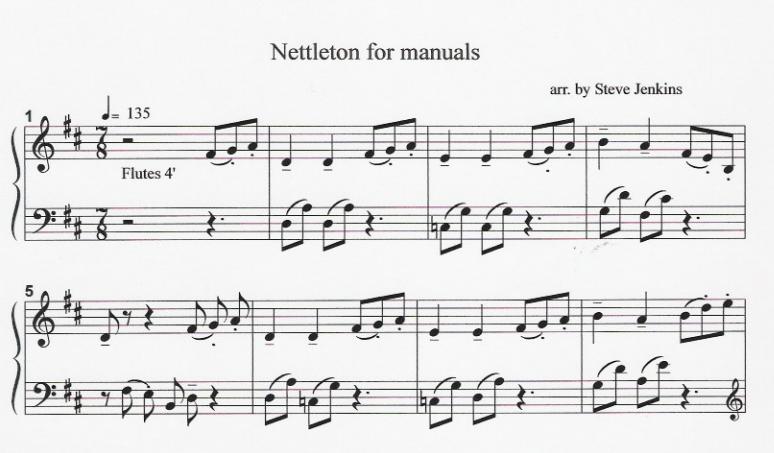 I decided I would play two of my own compositions next Sunday as the prelude and postlude. For the prelude I am going to play "Nettleton" (pdf link).  NETTLETON is the tune for "Come Thou Fount of Every Blessing" which is Sunday's opening hymn.
A few years back, a friend of mine, Nick Palmer, was putting together a little pamphlet of local composers for an upcoming convention and invited me to contribute something. My response was this little piece on NETTLETON.
For the postlude I am going to attempt to play my "Little Recessional" (pdf link). Both of these pieces will require some rehearsal. But I am proud of both of them and would like to see them performed occasionally. I don't think I have submitted them to publishers for consideration, but I think I've kind of given up on that due to the fact that I dont' really have a lot of "commercial appeal" (true of most of my work I think).
Recently received an email from Linda Graham, the chair of the dance department at Hope College, asking me to sign a release form for use of my composition, "Ebb and Flow," for a possible documentary of the Global Water Dances that happened this past summer.
This made me think about the fact that I did actually sit down and compose a piece this summer and have it performed. I have been wondering about the fact that I'm not doing much writing. But I guess I am doing some, eh?
I think that doing hours and hours of improvisation (at the ballet classes) draws on the part of myself that composes. So it sort of uses it up or at least drains it a bit. Which doesn't trouble me too much because I enjoy the improvisation and the idea that my music is existing in the moment. I, of course, believe that music is most itself when it is happening in time. So it's pretty satisfying anyway.
Speaking of dance, I have to grab some breakfast and walk over for my first class.