My cursor disappeared again. It only happens in Google Chrome. This time I took the advice of some people online and used my Task Manager to shut down all Google Chrome processes then restart Chrome. That worked.
I'm on my fifth day of resuming my daily treadmill exercising. It is killing me. I guess it's a good argument for not ceasing it. I'm not sure if it's the heat, my age, or what, but after a half hour of my usual routine, I am sweating like a pig, red faced and exhausted. I alter my routine accordingly, even though I'm not experiencing any classic stress reactions (like chest pains). I continue to exercise for forty five minutes and also make sure I have walked at least two miles. But I am easing up within these parameters. Sheesh.
I promised my boss to try to do a liturgy without weeping yesterday morning. She said she was shooting for that as well. She also told me that she had reassured herself that I would show up two days in a row. I pointed out that this was not a convincing thing to tell me. Heh.
Jordan wailed yesterday. We had a significant return of mourners from Joy's funeral the day before. My boss and I were hoping they would return and participate in the liturgy since they were so engaged on Saturday. This happened.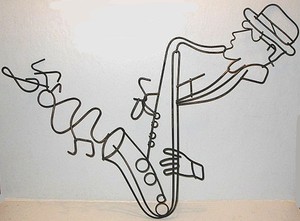 In addition, they were able to hear Jordan's lovely rendition of "Rhosymedre" on sax. It is beautiful that way and I have difficulty seeing how any one would not like both versions, the organ and the sax and organ version.
I asked Jordan to play on the opening hymn, the offertory hymn (this one was last minute) and the first communion hymn. Just before the postlude, Rev Jen acknowledged him and the cong applauded. It was pretty cool.
I also had lots of nice compliments about music at Joy's funeral including from Julia Huttar, daughter/priest/organist person!
Sacks is dying and doesn't not expect to make his next birthday. But he continues to grind out these incredible pieces that are life affirming. What a dude!
This article gave me pause on the extreme hate filled messages I read on Facebooger from individuals. Yikes. I hope they just stay hysterical and don't pick up their beloved gun and hurt someone.