There is something soothing to me about reading non-fiction. I have always curled up with histories and philosophies and used my tiny brain to try and process ideas. Maybe this is why I begin each day lately reading non-fiction. Maybe I fear losing my tiny brain to alzheimers or some other debilitating disease. It certainly doesn't help to have watch my own father's gradual loss of faculties.
At any rate I am attempting to do some resting this week  and having some success. Today I have a few tasks. I meet with my friend Rhonda at 10 to listen to her play an upcoming program. Organists do this for each other since the sound of the organ is often much different on the bench than in the room. Both of my organ teachers (Ferguson and Cramer) encouraged their students to play for each other, to seek out venues prior to a performance which would stretch and teach them.
Speaking of this, I did go and play at the Holland Christian High School yesterday with my student cellist. He was one of several players airing their pieces presumably for the up and coming Solo and Ensemble Festival. I was especially impressed with the audience. The performance took place in lecture hall wider than it was deep.
Students were scattered around quietly eating their lunch and listening to their fellow students perform. What I found unusual was  that there was a respectful silence while people played.
I guess I play so much music at church these days (preludes and postludes) in the presence of people who are engaged in other activities than listening that this felt unusual to me.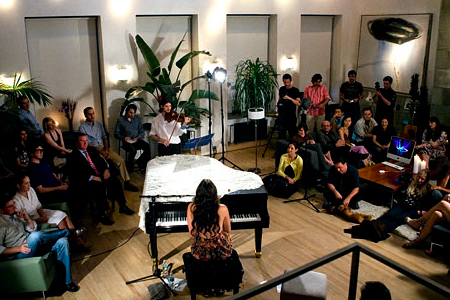 It's one thing to watch a bunch of old people carted in from large retirement villages to listen respectfully to a noon recital at the Arts Council as I did recently. Quite another to watch handfuls of high school students stay quiet while live music goes on.
The recital was presided over by an official acting young man I presume to be a music teacher at Holland Christian High School. He ushered people on and off. Asked them to introduce themselves and their pieces. The first player was a Euphonium soloist who surprisingly played a piece by Alexander Guilmant (if I heard correctly). Next a bass clarinet player played a pair of baroque dances. Then we played.
The cellist had told me that if the string quartet showed up we were supposed to shorten our piece. We figured out where we could stop somewhere after half way. As we went up to play, he told me we would do the short version. He calmly sat with Eileen and me listening to his fellow students. But for some reason as he began to play I noticed he was playing in a less relaxed manner than he played in my living room.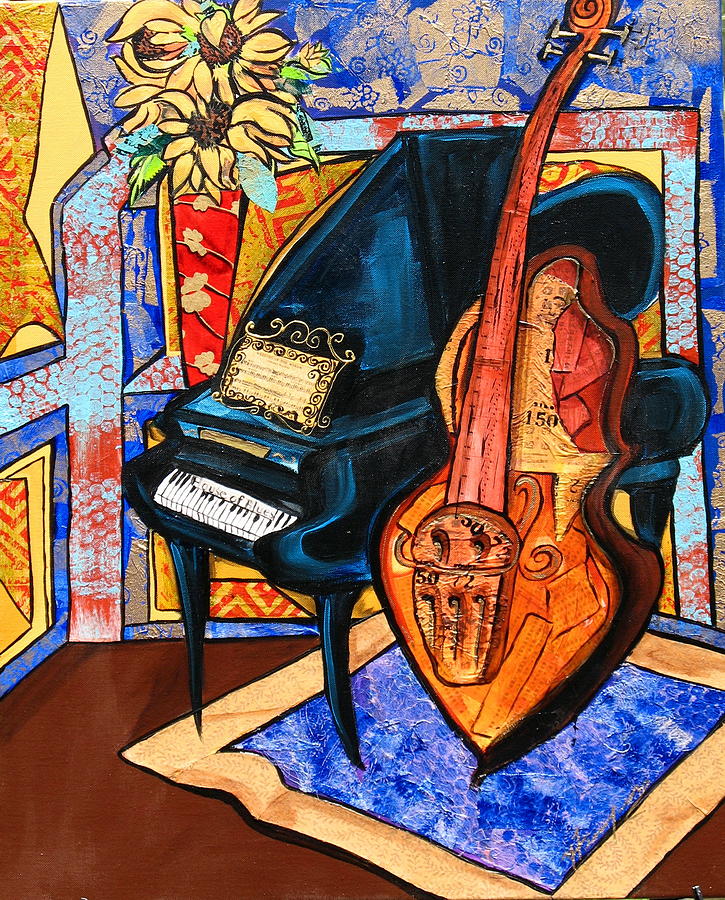 This makes sense of course. It's one of the reasons to "air" out a piece: to see how you actually play it as a piece of music and not as a rehearsal of a piece of music in the presence of listeners.
I listened to the recording my young cellist had mentioned that he had listened to of this piece, cellist Mistislav Rostropovich, pianist, Rudolf Serkin. When a young talented player tells me they have listened to a recording, it's a good idea to check it out. Often young players have made their interpretive decisions colored by recordings they have heard.
I have been listening to many recordings of this movement. As I understand the movement, it's more of a duet between cello and piano than a cello solo. Themes are traded back and forth, one player prominent then the other. I tried to do some of that yesterday. My cellist was a bit rattled. I hope this didn't rattle him further.
After the mini recital, I helped the adult (teacher?) move the piano out of the room. He complimented me and asked me where I was from.
"Holland," I replied.