I had a complete day off yesterday for the first time since before Holy Week. The day began with talking with Elizabeth and Alex on Skype (as I mentioned yesterday).
Eileen and I walked downtown and had breakfast at LemonJellos which has changed considerably. I have watched this shop since the owner was a barrista working for the Til Midnight restaurant which operated a small coffee shop in this location next to its restaurant (which has closed long ago). Matt, the present LemonJellos guy, was a drummer in Contemporary Christian bands and worked as a coffee jock. When Til Midnight decided to close the coffee shop, he jumped at the chance to put his own shop in.
He said at the time that he preferred selling coffee in coffee shops to traveling from coffee shop to coffee shop in a band. He immediately began considering running live music. I remember walking down with my guitar and playing music there before the business really took off. I tried to be encouraging even though I was very much the old man to these young people.
Matt hired me many times to perform. That was lots of fun. I did a lot of unusual music in his shop including arrangements of Arvo Pärt and many covers of indie artists like Fiona Apple. And of course I did a lot of original music. My bad Paul Simon songs I call them.
This work had languished for years while I was supporting my family working as a church musician for the Catholics. Around the time Matt was starting up his shop, I was in the mood to revive this music and engaged many local musicians to perform with me in local clubs and on the street.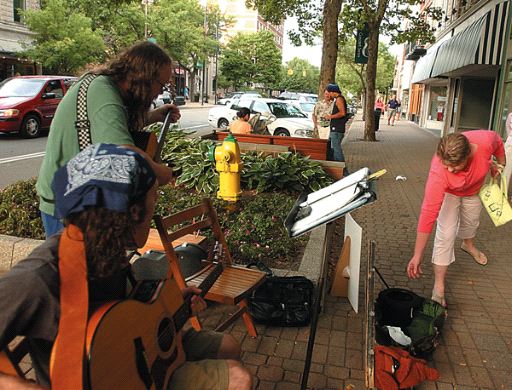 Weirdly, I have pretty much ceased to play guitar and sing these songs. I think it has to do with the reason I wrote them which was largely therapeutic. Having no one to really play them with and no place (other than church which is where I gave my last concert of this music) to perform them, I have to say I don't miss the music or playing guitar or banjo.
If someone was around to play with I would probably pull them out. But as it is, I find playing piano and organ alone very satisfying. And I do get to make music with others at church and in my piano trio.
Playing for ballet class can be very collaborative as well. I tend to watch the dance and change the music to better fit it. Dancers sometimes listen to the music and dance with more emotion and beauty. This is fun.
I bring all this up because I find the Lemonjellos experience now to be much like the other coffee shop in town: JPs. Both have a strong Reformed church flavor. Ministers abound. Young shiny sincere faces. It's a bit of a hostile environment for someone like me who might accidentally say "fuck" out loud. No one is creepy to me or anything. In fact I suspect I'm pretty invisible. The invisibility of the old and different can be a good thing.
Anyway, Eileen and I had a nice quiet breakfast with each other and our devices.
While we were there, Sarah texted us from the UK and wanted to Skype. We walked home and did that.
After chatting for a while, I proposed that we continue our cyber chat in my Mom's room at the nursing home. Sarah agreed and that's what we did.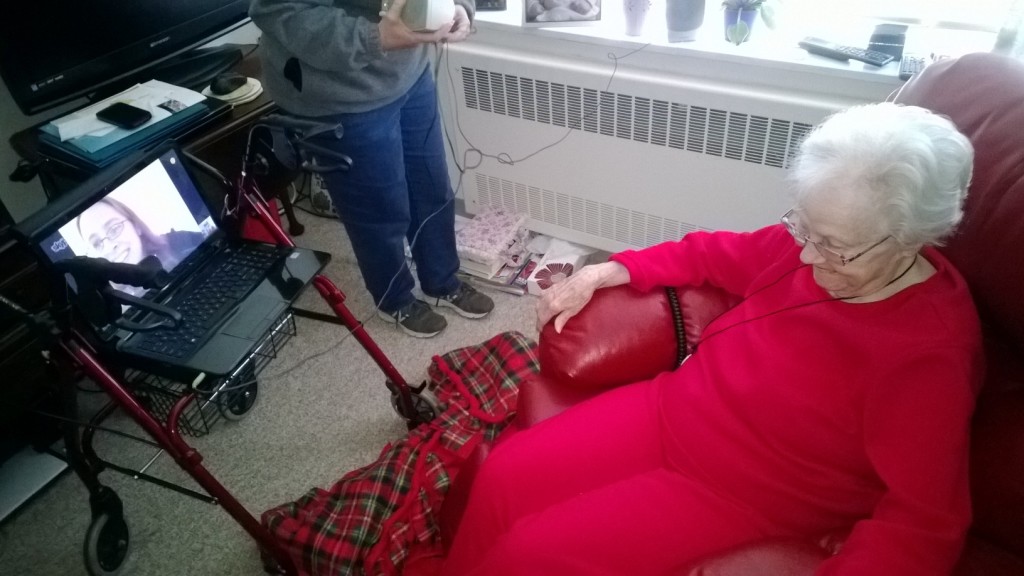 Mom is doing great. We kept it short and I think she enjoyed it.
I'm enjoying not having to go to an 8:30 class this morning.
I have to be at college from 11 AM to Noon, then I'm done. I will probably meet with the clergy at church and then practice organ and prepare for this evening's choir rehearsal.
It promises to be a very light hump day indeed.
This musical sounds like fun as do some of the other pieces mentioned in the review.
First use of African American much earlier than other hyphenated American labels. Wow. 1782.
This article is a bit convoluted but the book and the review do ask some very interesting questions about thinking about gender and anthropology.