I see the number of people interested in this blog is dwindling. Yesterday I only had four hits. Ah fame.
My grand daughter, Lucy, has a birthday coming up. Apparently they are going to do an Alice in Wonderland theme for her birthday.  Hence, today's embedded music.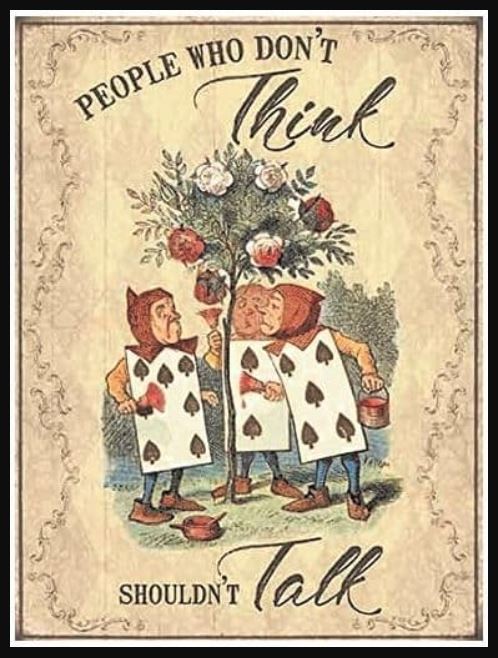 Sarah bought a hokey sign with this on it at the Alice in Wonderland Shop in Oxford recently.
We chatted with her today.
I just got back from posting the hymns for tomorrow's service. They fucked up the opening hymn. I had put words for it in the document I edit for Sundays, but they decided it would be better to put the music, an admirable impulse. However, instead of putting the third stanza in as written, they opted to only put the descant in for that verse. Confusing. i don't think it's necessary to let anyone know this evening. They most certainly would not bother reprinting it with a correction.
So there's that.
I have been drinking fake gin for several evenings. I'm on my second bottle of the three bottle shipment I recently ordered. I do put a splash of vermouth with it so I'm not entirely alcohol free, but close. My blood pressure has dropped, but my weight has stabilized.  I hope that I will continue to shed some of my excess pounds by not snacking in the evening, but I guess we will see.
Eileen is making sweet and sour pickles. The house smells like pickles.
By the way, the video of Gore Vidal I embedded yesterday is pretty lame. As it continues, it's easy to see that Vidal is not at his best. I still admire him. But I no longer recommend this video.
I have this bookmarked. I admit that I am not attracted to Burgess's composition. But I still think the world of his writing.
Here's some cool pictures of mushrooms. I cooked some of them up and put them on my pizza.