Lately I've been thinking a bit about how I find myself drawn in deeper and deeper into classical music and at the same time noticing how irrelevant to the larger community my own tastes and interests seem to be.
Last week I put hours and hours in preparation for the prelude that I played this past Sunday. I don't think many people realize or notice the fact that I'm playing music on the organ, much less that I'm doing it well or not.
The music is simply irrelevant to them.
I'm reconciled to being anachronistic.
I am largely where I want to be right now. When I began studying composition in the 70s, I remember thinking that if I could just get enough piano technique to play Bach's Well Tempered Clavier, I would be satisfied.
I now have this technique and more.
And it is satisfying.
It's a shame that not many people seem to want to listen to the wonderful music.
But that's the breaks.
Yesterday I was drawn in to rehearsing the piano part for Tchaikovsky's Piano trio in A minor.
I found just rehearsing the piano part extremely satisfying. When I first picked up the work, I found the piano part pretty challenging. It was written for Nicholai Rubenstein. Dang Russians were often amazing pianists with huge hands.
Yesterday, it seemed a lot more doable. It is long and it was the first time I read all the way through the first movement.
Anyway, I think it's a heckuva piece of music even though in my educational career, Tchaikovsky was barely mentioned, quite out of fashion even with the classical types.
I have to say that when my piano trio read through the first 20 or so pages of this, we all thought it was pretty cool.
************************************************************
JUPE CONTINUES TO BRING TEARS OF BOREDOM TO THE FEW PEOPLE WHO READ THIS WITH HIS RECENT PREOCCUPATION  WITH ALL THINGS HYMNIC
**********************************************************
Doing my morning reading on the history of hymnody, I got lost in Robin Leaver's essay, "English Metrical Psalmody," in Hymnal 1982 Companion, Volume one.
I was trying to straighten out the history of metrical psalmody in my brain, especially as it works itself out in Hymnal 1982.
I discovered another hymn tune in the Hymnal 1982 that is set by Bach in his Orgelbuchlein. I immediately updated my page of Orgelbuchlein Hymns in the Hymnal 1982.
It turns out the that famous chorale, O Mensch, bewein' dein' Sünde gross, was actually derived from a metrical psalm tune which predates it. Who knew?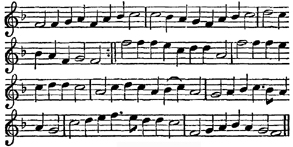 This was a surprise to me.