Wow! Kevin Bao's teacher just emailed me.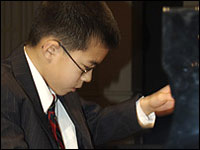 Kevin Bao is an 11 year old pianist who recently performed on NPR's From the Top music show. I was so impressed with the the piece he played ("Variations on Theme of Paganini" by Isak Berkovich) that when I couldn't find it online, I emailed the show.
They forwarded my message to his teacher Sergei Polusmiak who emailed me that my only hope was to go to Russia or the Ukraine and look in used bookstores... Heh.
Don't think I'll be hitting Russia or the Ukraine soon. But it is the sort of thing I might find in a box in the back of Encore Records in Ann Arbor.