When you work on Sunday, Mondays can be hard days if you don't get much time to rest. Yesterday was a full day for me. But even fatigued we got a lot done. When with her typical Energizer Bunny genes Eileen persisted in cleaning and organizing and putting things back after we had spent the morning getting her new loom from the porch to the dining room, I urged her to stop. She planned to grocery shop and then drive to Grand Rapids  in the evening for her Weavers Guild meeting. I was getting tired for her just thinking about it.
After breakfast and ritual boggle we carefully tied up the loom to make it as narrow as possible. We were relieved to see it fit through the narrow doors into the living room. This was all Eileen's directing. I was just the helpful extra set of hands.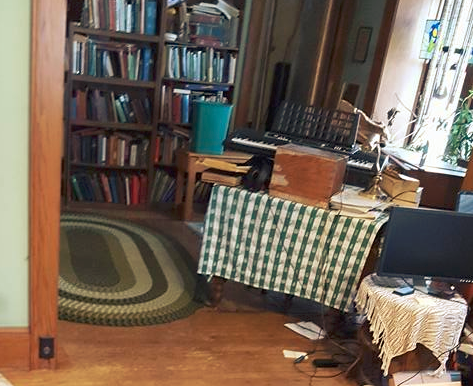 There was a bunch of stuff to move to make way.
We also had to roll back the carpet to facilitate the loom's move.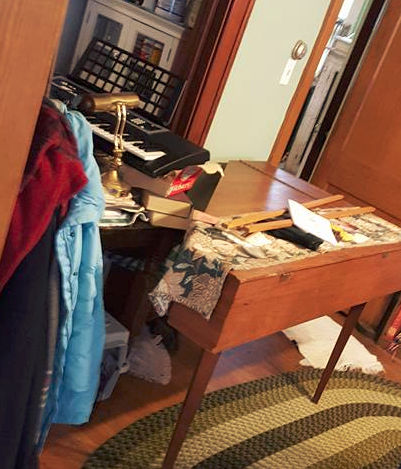 The dining room table and defunct harpsichord had to move into the bathroom doorway. They are still in this position this morning. No harm in that actually.
Eileen and I had to keep walking around the house to get to either side of the loom as we gently urged it into the house.
Eileen was getting happier by the moment.
Finally in place, the loom now had to be untied and unfolded.
Looms are beautiful objects to have sitting around the house. I like it.
Then the truck to pick up the defunct Subaru arrived.
Again, Eileen handled the legwork of donating the car to Michigan Radio.  Then, I began working on music for Palm Sunday. We still hadn't picked out a processional chant for the outdoor procession. I began emailing my boss ideas. We exchanged emails for the rest of the day working on this since we had a Worship Commission meeting in the evening (no rest for wicked).
Eileen left around 5 PM for Grand Rapids. Since her mini is in storage and the Subaru is gone, I walked to church in the rain. It was lovely.
Cool. Donna Leon has just published a new mystery. I enjoy these. I am fifth on the hold list at my library.
An excerpt from Tom Nichols' new book. Looks good.
I haven't had time to read this article by a composer I admire, but it's bookmarked for future perusing.
Another poet dies.
I listened to this podcast this morning while I  cleaned the kitchen.
This interview was mentioned in the podcast. The interviewer, Ed Hirsch, was one of the participants in the podcast.