nailed it at work
Yesterday I performed Bach's 2 part invention in C minor for the postlude. The Inventions of Bach are a life long love of mine. But, I haven't performed them in public very much. I often think of my brother Mark's story about watching a skilled musician attempt to read them as background music at a cathedral event in Detroit. The poor dude underestimated their difficulty and didn't do so well. Anyway, that's how I remember the story. It's silly, I know. But, for me this story has hovered over the idea of playing these in public even though I regularly play them in private.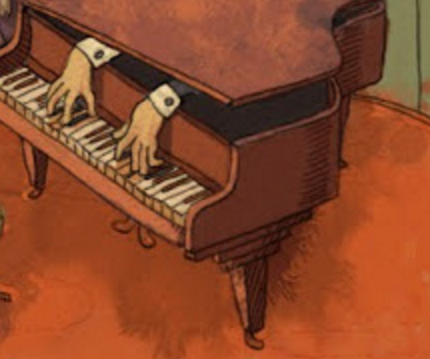 Also, I managed to convince my very first piano teacher to let me try to learn one before I actually had the technique to play it (the  F Major, still one of my favorites). Unlearning all my bad habits on that particular Invention has been an accomplishment for me.
So I was a bit dismayed when my preparation for the C minor Invention always faltered at some point. Yikes. Then I remembered the old piano trick of rehearsing with a bit of "bump" or muscular action on each note. This is actually the opposite of how one plays the organ. After a couple sessions of approaching the piece in that way, it ended up very secure in performance.
reading in the backyard
It was a beautiful day yesterday. The temps were in the low 70s. Perfect. After church, Eileen decided to work on purchasing a ticket to fly to China and start working on a visa. We have learned as a couple that has one retired person in it and one that is not, that it's better if I vacate when Eileen is trying to do certain kinds of concentrating (not weaving, thank God). I took advantage of the weather and mercifully let Eileen work alone at the computer inside.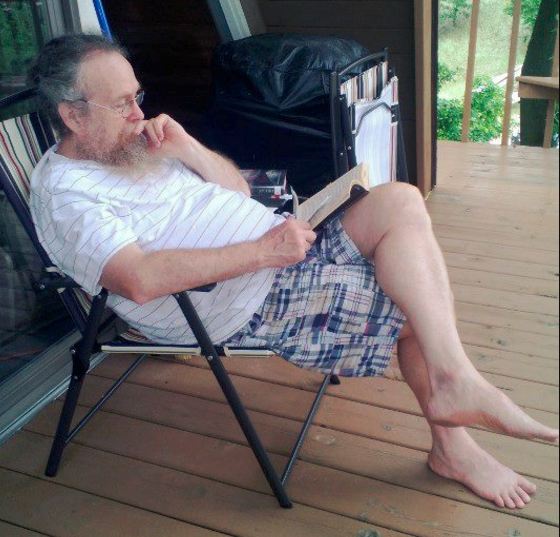 book review
I finished reading this book yesterday. When The Kissing Had to Stop by Constantine Fitzgibbon is described by its author as a "fable" peopled with "types rather than people." This might be a bit charitable on his part. I expected it to be a dated story since it is imagines what will happen in the near future from the point of view of 1960 when it was published. So I approached it with a reasonably tolerant expectation.
But, the writing is thin on the ground. I found myself having trouble keeping track of those "types rather than people." But books of this sort ostensibly about a "future" are usually about the book's present. (Orwell's 1984 has often been viewed as a comment on 1948) and even with the author's "updated' new introduction and epilogue dating from 1972 this book is about English politics at the time and some unintended hilarious plot twists such as Russia invading England with the help of some English politicians.
I can't remember where I picked up on this title. It had to be in the discussions taking place recently of dystopian novels now that we in the USA live in an atmosphere that can seem vaguely dystopian.
Did you know that the USA made numerous other air attacks in Syria in the last two weeks? I wasn't remembering how we as a country are at perpetual war in many places and that this has been going on for many decades. I first started clipping out NYT articles about military involvement in the 90s. There were regularly articles about USA military engagements all over the world.
You know you're in trouble when the Chinese Media seems to be making solid points about an American president.
Despite the harm this man has done, this is a good thing he is doing.