I received a text message from a person I know at church yesterday evening. She pointed out that I had mistakenly labeled one of the photographs of the stations of the cross I had  put up. I went to work yesterday and discovered that the stations that I believe were made at least in part by children of the parish a few years ago were put up all over the church.
I thought it would be a simple pleasure to photograph them and post them on Facebook where I maintain a "group" for people at Grace. I call the group, "Grace Music Ministry." Since everyone who worships at Grace technically has a part (an important one in my understanding) in the music we make together, I basically attempt to add anyone on Facebook from Grace.
This means that if I put up the pics, there might be some interested in seeing them.
I did this rather quickly in the afternoon while Eileen pulled me in and out of her self imposed task of doing our taxes.
This is not excuse the face that I left a couple out and incorrectly indicated that the fourteenth station was the twelfth and last one.
In addition, Facebook would not allow me to put more than two pictures (!) in most of the albums. It had been my intention to make a complete album of all the pictures of the stations to preserve their numerical order. This was not to be. So I just put up two at a time. I suppose I could have (and maybe should have) put them up so that they would appear on Facebook in numerical order. This would have entailed cleverly uploading them backwards, since one usually sees the most recent posts first.
In my haste and carelessness, I omitted a couple.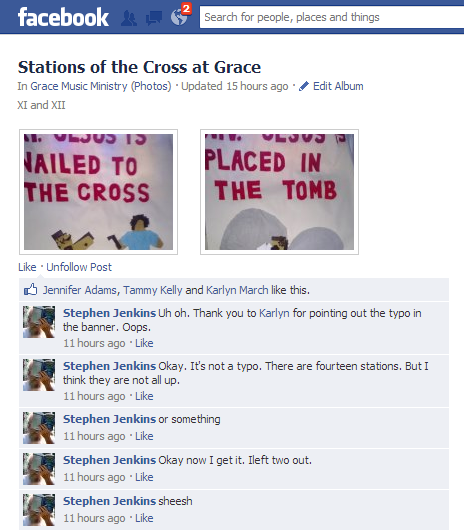 Thank goodness, my friend had the temerity to let me know I had done something wrong.
So even though I was trying to settle in for the evening, I fixed it.
Actually I left the error there and loaded up a couple of albums with the missing stations and correctly labeled. I left a message about it and hoped that if anyone looked at it would make some sort of sense.
Then I noticed a message from my daughter Sarah that she had been unable to see six pictures in a post I had put up.
Since being available to loved ones is a major motivation for this blogging, I immediately set out to figure out what had happened.
Which I did.
It seems that my WordPress interface doesn't like it when I open a picture from my email and try to "copy image." All six pics that were missing were created as a result of that process. Instead, it seems to like it when I download pics and save them as jpegs on  my hard drive and then upload them to my blog.
So I did that and emailed Sarah so she could see the pics if she wished.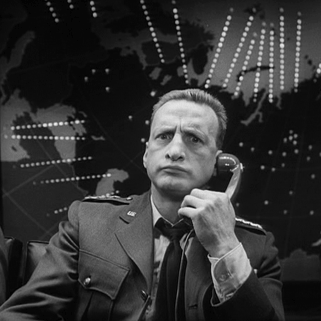 Whew.
All this for silly stuff, eh?
*****
Iceland Baffled by Chinese Plan for Golf Resort – NYTimes.com
This is fun. Icelanders understandably don't quite get the rich Chinese notion that they want to build an "eco resort." In the middle of difficult terrain and weather.
*****
This American Life Features Error-Riddled Story On Disability And Children | Research | Media Matters for America
There are so many many miscited facts in the stream of information and stories coming at us these days. I use several web sites that are watch dogs of errors. Surprisingly, "This American Life" and "Radiolab" are caught perpetuating old inaccurate stereotypes.
*****
WSJ Flip-Flops On EPA After Supreme Court Case Comes Out Pro-Business | Blog | Media Matters for America
Same web site as previous link. This time pointing out blatant shift of Wall Street Journal opinion.
*****