After doing dishes and Greek this morning, I did something I haven't done in ages. I sat and held a newspaper and read it while sipping coffee. It's funny how something so simple changes.
My Mom subscribes to the local paper, the Holland  Sentinel.  We have subscribed on and off. I dropped my subscription primarily because I basically access news and information online. I tried a digital subscription for a while. The Holland Sentinel's website, like so many, struck me as clunky and slow. They even simulated online those stupid stupid little stickers they stick on their paper with ads on them.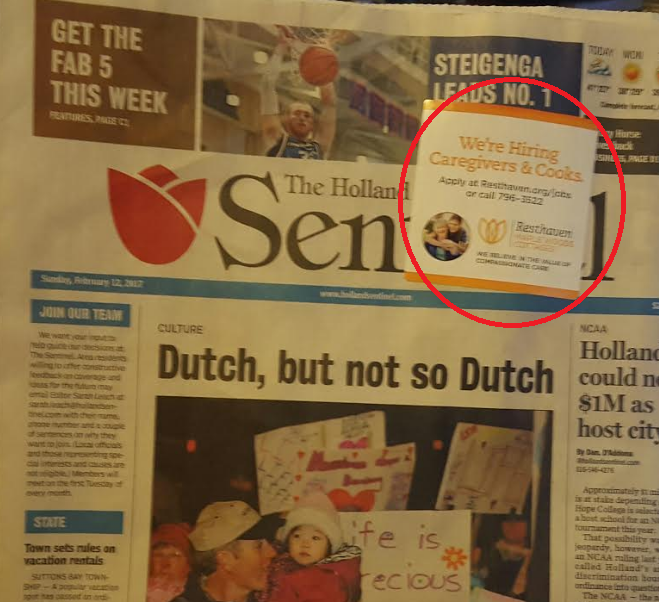 Now they are pop-ups online (which my Adblocker thankfully blocks). At least they were the last time I looked at the Holland Sentinel online.
When Mom doesn't give the paper to the workers at her nursing home, she gives it to us, mostly because Eileen likes to sit and do the puzzles. We both glance over it. I noticed the headline, "Dutch, but not so much," in this past Sunday's paper, but didn't think it looked interesting.
But a day or so later, a link popped up on my google news with a sentence or two describing what the article was about. It was comparing conservative Holland Michigan to the more liberal Netherlands. This is something that I have thought about living in Holland.  Many of the local stereotypical brain dead conservative attitudes are in such stark contrast to what I see as the more humane and intelligent approach of the Netherlands. Or at least that's how it seems to me having never visited the Netherlands, but only read about it.
So here's a link to the article if you're curious.
The Holland Sentinel's website seems to be improved. Sarah Heth, the reporter, did a good job of interviewing local people and integrating AP reports. I will look for her work in the future.
Speaking of journalism, I have read some of this article this morning. I have it bookmarked to finish reading. It's a bit longer than many news articles.
Journalism is definitely one of my ongoing interests. I have been thinking about reporting and page design since I was co-editor of my high school newspaper.
Weird. Moy Sand and Gravel the other book of Paul Muldoon's poetry came in the mail yesterday. I also paid a penny plus shipping and handling for it. It was in pristine condition. And I see by the invoice that the people selling the book (Goodwill Industries) had specified its condition. Cool.
 I'm on page 86 of Richard Haas's new book, A World in Disarray: American Foreign Policy and the Crisis of the Old Order. He is speaking from a chilling realpolitik point of view. There is a lot of listory brilliantly summed up in this book. It's helpful to have reviewed history as I watch Putin dealing with Trump. It's hard not to suspect that the Russians think that Trump is weak and more malleable and stupider than any president we have had. And that this works to their advantage. 

Not to mention the current revelations about Micheal Flynn's totally inappropriate and probably treasonous connection with Russia.
That would Jesse Jackson. Senior.
It matters because the lie about non-citizen's voting will drive further terrible voter restrictions.
And now for a song. It starts around 1:46