My 12-year-old grandson is getting more internet literate. He emailed me this past week and yesterday he pulled me up on chat online.
We had a lengthy exchange. I learned that he has switched from playing trombone to trumpet and likes that quite a lot.  He also likes blues and church music. Wen I asked him what blues he liked, he mentioned Louis Armstrong.
He linked me in to a Youtube video of a piano piece he is learning. Wow. It sounds hard to me, but he is determined to learn it and no doubt will do so.  In response I linked him in to this video:
After a few minutes of viewing it, he messaged me back his surprise that Armstrong played trumpet. He only knew him as a singer.
That was fun.
As we were sitting and chatting, I sketched out an easy piano version of Basin Street Blues and sent it to him in a PDF.
I continue to be thrilled and amazed at how the internet can connect and educate all of us.
This morning I browsed through the OED entry for the word, "book."
One of the things I enjoy is looking over the quotes in the full entry that illustrate meanings and senses of the word.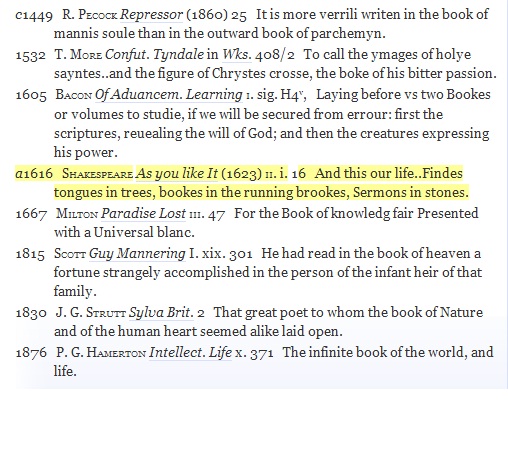 This is from meaning 4.a. "That in which we may read, and find instructions or lessons." The highlighting is from DIIGO an online bookmarking service that I use that has this option. I used this service free for years, but recently upgraded to their cheapest paid version since I use it so much.
In the online edition of the OED,  there are quotes and emendations that have been made as recently as this month. I find that pretty exciting.
*********************************************************************
The Anti-Union Roberts Court – NYTimes.com
Ever since the 2000 Supreme Court ruling I have been bemused how obvious the bias of the majority of the current court is. My reading in brain science and subjectivity pretty much blows away the notion that any of us are truly objective. If we do not recognize our bias (as many justices have protested even as they actively pursue an obvious partisan agenda), we will be at the mercy of what Daniel Kahneman and his dead colleague Amos Tversky have labeled System 1 in the brain. This is the activity of the brain that allows snap judgments and intuition.
*********************************************************************
Why Vincent Chin Matters – NYTimes.com
An impassioned insight to American racism.
*********************************************************************