I read "Asterios Polyp" yesterday in between rehearsing, taxiing my Mom, playing in the Lawrence Park Amphitheater in Zeeland and going grocery shopping.
It's the story of an brilliant self-centered architect, Asterios Polyps, who never saw one of his prize-winning designs realized. It begins in his apartment where he is obviously sort of vegetating and watching TV. The apartment building catches fire and he panicks and grabs three things to take with him: a cigarette lighter, a watch and a pocket knife. He inexplicably walks away from his burning building and goes on the road and takes a job as a car mechanic in a little town.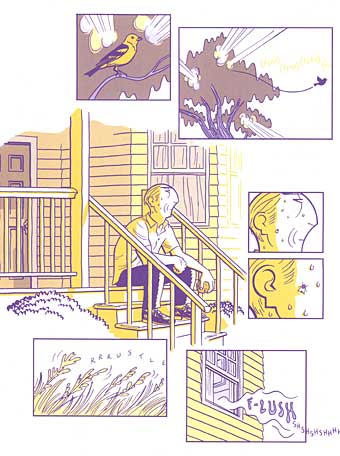 Through the use of narrative, flash backs and dreams the book unfolds.  Mazzucchelli pulls out all the stops in this engaging novel. His dialogue seems fined tune whether it's Asterios's car mechanic boss who not only gives him a job but takes him into his home as a boarder. Or the blathering pretentious dance choreographer who commissions Asterios's wife to design a set for his rendition of "Orpheus in the Underworld." Or the brilliant but arrogant observations of Asterios to his students and people at parties.
In addition to this is a shifting visual technique that fits the story being told. The car mechanic's family and friends begin to become more cartoonish and the color scheme slips into bland pastels which seems to be related to the mundanity of what's happening. Asterios's wife, Hana (Japanese fo flower) sees Asterios as a cubist cartoon nightmare when he is at his worst.
Then there are the names: the town Asterios ends up at is called Apogee (defined as "the final climactic stage" at princeton.net Asterios's name itself is very interesting. His last name, Polyp, is defined by wiki as "an abnormal growth of tissue projecting from a mucous membrane"  His first name besides being an allusion to Greek Mythology (both a river god and a king share the name) is also the name of the point on the skull where the three plates of bone come together.
So this book does what I like books to do: it lingers and keeps giving food for thought. Recommended.