Last night when Eileen got home from work, I ended up reading her a chapter from a book I had retreated into after a long exhausting day.
The book was given to me by my brother as a gift and is Your Hate Mail Will Be Graded: A Decade of Whatever 1998-2008 by John Scalzi.
This is a compilation of his blog posts and it is quite good.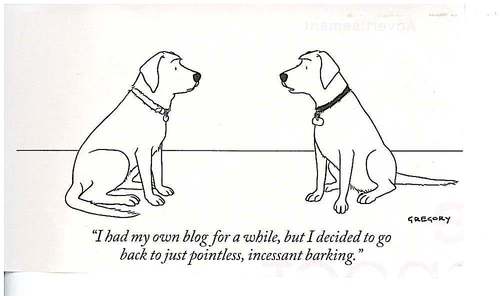 The chapter I read Eileen, "I Hate Your Politics,"  can be found here in its entirety.
In this chapter Scalzi scathingly stereotypes three political persuasions: liberals, conservatives and libertarians.
I recommend just clicking and going to the entire chapter, but here are a few examples from each:
Liberals:  "The attention spans of poultry; easily distracted from large, useful goals by pointless minutiae. Not only can't see the forest for the trees, can't see the trees for the pine needles. Deserve every bad thing that happens to them because they just can't get their act together."

Conservatives: "Genuinely fear and hate those who are not "with" them — the sort of people who would rather shit on a freshly-baked cherry pie than share it with someone not of their own tribe."

Libertarians: "Easily offended; Libertarians most likely to respond to this column. The author will attempt to engage subtle wit but will actually come across as a geeky whiner (Conservatives, more schooled in the art of poisonous replies, may actually achieve wit; liberals will reply that they don't find any of this humorous at all)."
Since beginning this book shortly after my brother gave it to me, I have checked Scalzi's blog, "Whatever," occasionally. He claims to get 40K hits a day, but I found his entries not quite as much fun as his prose in this book. But of course that just suspiciously makes me want to go and buy books by him. Hmmmmm.
I don't have much time to blog this morning. My Mom called yesterday and told me she had a doctor's appointment at 7:30 AM which neither of us were aware of before the reminder phone call she received. So I have to pick her up in about 45 minutes.
In the meantime, here's todays links:
1. Billy Bang, Jazz Violinist, Dies at 63 – NYTimes.com
Don't know his work but after reading the obit, am a bit intrigued and plan to check it out.
2. Arthur Lessac, Singing and Speech Coach, Dies at 101 – NYTimes.com
This was a great obit of a singing coach. Coaching singers is something I do so I admired the story of this man's life even though I hadn't heard of him.
3. Fighting for a People's Budget | The Nation
The left is stirring and not all of them are completely disgusted with Obama. I of course am more in agreement with people who have my kind of attention span (poultry) than the right or the Tea Partiers. But I do try to keep up with all stripes of comment.
4. After Budget Showdown, Women Under the Bus | The Nation
Having said that, I also read Katha Pollitt when I can. I think she is brilliant.
5. In the Vestibule, in the Barn, in the Hayloft, in the Forest with the Planetesimals by Dara Wier
Interesting poem. I think I have mentioned that I knew an English teacher ion my high school who used to routinely yell at us students and tell us that there was more "news" in poetry than in the newspapers and that it would behoove us to read the poems not the papers. As an adult, I do both.
I liked a lot of sections of this poem,but this line jumped out at me:
do you think when someone dies they just vibrate a little differently.
6. A continent's discontent – Features – Al Jazeera English
This news organization continues to set the pace for international news. Excellent overview. If you happen to read this article and don't learn something about individual countries in the complex continent of Africa, I would be surprised. Anyway, I learned stuff.
7. Obama and the Budget Battle with Republicans : The New Yorker
Analysis I found interesting to read. Quote:
"Ideology makes it unnecessary for people to confront individual issues on their individual merits," the late Daniel Bell wrote. "One simply turns to the ideological vending machine, and out comes the prepared formulae." Ideology knows the answer before the question has been asked.
Finally, I ran across this yesterday and liked it quite a bit and put it on Facebook. Here it is: