So the recital yesterday was a blast. It was such a pleasure to work with this group of people. Everyone did a splendid job.
I warned everyone I was that casual attire was encouraged and that I was planning to wear excellent socks.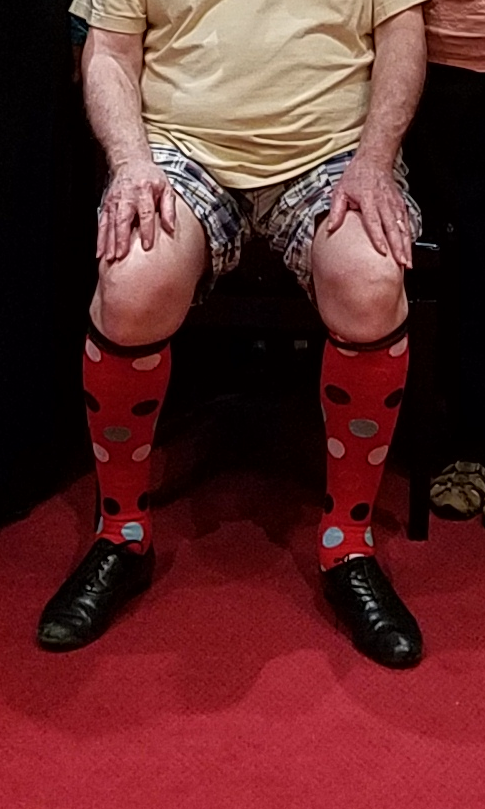 I wore my outfit to church but that worked fine since I wear a robe.
The listeners seemed to appreciate my extensive program notes. (link) I know I had fun writing them.
I was happy with my performance of the Toccata and Fugue in D minor by Bach. It wasn't perfect but I mostly did it the way I intended to. I thanked Rhonda afterwards for her help with it. She had some good ideas and after experimenting around a bit, I incorporated many of them into my final performance.
I also enjoyed improvising with Jordan. We did this as background music to two of the readings. On the reading from Olio by Jess, we used soprano sax and piano. This was lots of fun as it was very free form. I asked Eileen to read the poem a line at a time and then Jordan and I responded together.  In the reading, "I'm like a bird" by Nick Hornby, we used flute and marimba and did some playing underneath Jen's reading. At one point, she stopped and we played a short excerpt of the song from the title. On the Duke Ellington reading, Jordan improvised magnificently between little bits of the Ellington excerpt. Some very cool stuff.
The trio nailed my "Stirred Hearts and Souls." And it was fun to do my Drek 2019.
I finally did a Grace Notes recital that resembled my approach to my coffee house gigs. It was extremely satisfying.