An organist Facebook  "friend" recently made the comment that a musician is only as good as her/his instrument. I have spent my whole life playing lots of inferior instruments: pianos, organs, guitars. Not all of them have been so. But especially in my profession of church music I have had to confront limitations of bad electronic simulations of pipe organs and bad pipe organs.
At one point I had a decent organ under my care when I did a short stint as the Music Director for the charming but dying downtown parish of First Presbyterian Church of Detroit. But I actually quit the job despite the presence of a large Cassavant Frere instrument and a paid octet because I missed liturgy.
I then took a job in Fenton Michigan at Roman Catholic Parish which paid a bit more and worshiped in a converted Gymnasiam (with a lowered tiled absorbent ceiling) and had what was basically a electronically simulated theater organ as its main organ.
That was one of the worst instruments I had to use. Friends told me that in the U of M organ department I was known as the organist who played in a gymn. Nice.
When I worked here in Holland at Our Lady of the Lake for many years, I presided over the purchase of an excellent used grand Bösendorfer piano. This was (and still is) a very fine piano and inspired me to learn and perform piano literature at Mass.
Yesterday after rehearsing all my upcoming organ music, I still had a bit of energy left and turned to a French Baroque composer whose music I have purchased but not performed: Nicholas LeBegue.
I played through his entire Suite on the First Tone. Here is a fine recording on YouTube of it.
This player is playing this organ: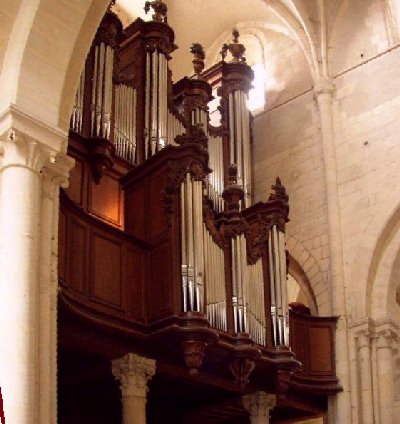 This instrument hails from 1746 according to the YouTube info. There is a link to a cool web site about it and upcoming concerts.
LeBegue died in 1702, but his tradition (the French Baroque) extended for at least another fifty or seventy five years.
I love this music. When I studied with Ray Ferguson, he made sure I learned how to play the music of Louie Couperin, Francois Couperin, Daquin, and many others.
He himself studied with Marie Clair Alain, Kenneth Gilbert and other big kids.
I heard Gilbert play and lecture and was very impressed.
Yesterday, I played through this same suite then came home and listened to a (different) recording.
This led me to think about my Facebook "friend"'s comment. He is probably right to some extent. But I am unfortunately under the influence of hearing a religious story told by my Dad to a congregation when I was a kid. It was something about a man trying to auction off a violin that was old and in bad shape.
No one was interested in it. Then an old man came up and gently picked it up and played. His playing was transforming. The audience was rapt.
After he put it down, the auctioneer said something like "Now who wants to open the bidding on this instrument?" And of course the bidding began.
Dad's punch line was predictably that the instrument had been transformed "by the hand of the master." I seem to remember another of the zillion altar calls of my youth followed.
Goofy story. Nevertheless it is lodged in my brain. And I am influenced to adapt excellent music to inferior instruments trying to recreate them without the available sounds you can hear in the YouTube above.
I don't regret that.