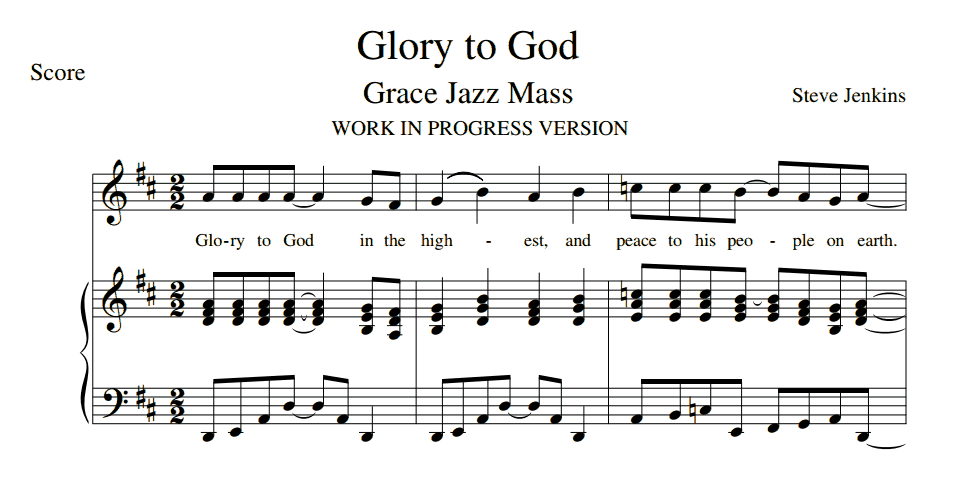 On Wednesday I showed my Jazz Gloria to my boss, Jen Adams. She was very supportive and could envision the final version working with our congregation.
Wednesday afternoon I spent at least an hour working on it, composing more sections. Unfortunately, the electrician inadvertently shut down the power and I lost all the work.
Thursday I got up very early (before the electrician was to arrive) and tried to recompose some sections. When I hit the ending, I realized that the phrases suddenly shifted to three measure phrases. In my Wed morning version, I had not written out the repetition with which this setting ends. In the lost version I had. Recreating it, I was unsure if I had made the last phrases four or three measures.
I decided to go with the three measure phrases. This gives it a limping feeling of incompletion as the chords repeat and the melody layers itself.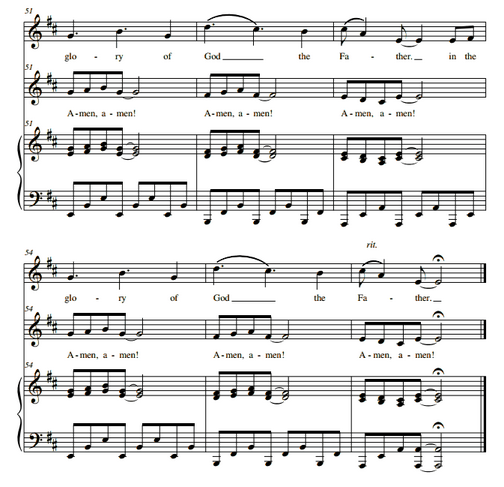 In the afternoon I met with my piano trio. I impulsively decided to show it to them. They were also supportive and even enthusiastic. I asked them about the three measures phrases at the end and they seem to think it worked. Dawn Van Ark my cello player pointed out that it gave a feeling of transcendence and an unendingness. (!)
Amy Piersma, my violinists, asked me if I shared my work. I said that I wanted to but I didn't have any of the Jazz Mass up online.
So this morning I got up and used Google Docs (now Drive) to make permanent urls available and added them to my Free Mostly Original Sheet Music Page.
For what it's worth, here there are as well:
Grace Jazz Mass
Gloria (work in progress) (pdf)
Holy Holy (pdf)
bulletin version (pdf)
Emmaus Fraction Anthem (pdf)
bulletin version (pdf)
I welcome comments especially critical evaluations from other musicians.
I often complain in this blog about my lack of collegiate input. It struck me this morning that I have three very fine colleagues in Jen Adams, Amy Piersma and Dawn Van Ark.
I keep on being lucky!
1. Standing Our Ground – NYTimes.com
Wise words from the editorial board at NYT about the problem of gun madness in the USA.
"Something is wrong here. We are not being made more secure, we are being made more barbaric…"
2. A Policy of Rape Continues – NYTimes.com
Sudan has a policy of the military use of rape. Evil.
3. Justices on the Job – NYTimes.com
Insights from Greenhouse on the history of the Supreme Court.
4. Holder Wants Texas to Clear Voting Changes With the U.S. – NYTimes.com
It is clear to me that hate and racism and bigotry are an entrenched part of the life of the United States. It will be a long struggle for my country.
5. Nothing to See Here: Demoting the Uncertainty Principle – NYTimes.com
I learned from this article that I misunderstood the whole deal. Helpful.
6. Nate Silver Didn't Fit In at the New York Times Because He Believed in the Real World
An interesting take on the Nate Silver phenomenon. I admire his clear headed approach to statistics. NYT screwed up.
7. No Keyboard, and Now No Touch Screen Either – NYTimes.com
Kind of goofy but interesting.
8. Losing Our Way in the World – NYTimes.com
Learning to see and navigate the real world without a compass.
9.