I seem to have a pathological addiction to variety. I can see it in my music listening habits. Recently, I have been turning more to music listening during my morning routine less to podcasts. There are still podcasts I enjoy and listen to, but I find myself more attracted to music than words.
This morning as I began to wash dishes, I thought it would be good to listen to some Beethoven symphonic music. In my app, y eye fell on his Coriolan Overture. I don't know much about this piece, but I have been very interested in thinking about the relationship between Greek and Roman myths and history and subsequent dramatic treatments.
For example, I am reading Shakespeare histories and plan to read Coriolanus soon. So I thought, what the hey, what does Beethoven have to say about this in his overture? Unsurprisingly, Beethoven was writing music related not to Shakespeare or history but to a contemporary play based on the Roman emperor.
After that I decided I wanted to hear some Mozart. Again on my app, I noticed that Jordi Savall had recorded an album of Mozart.
That's for me! So I listened to it. Then I recalled how much I love Mozart's Gran Partita and switched to that.
Then I decided my exercising needed some up tempo music so I put on an old playlist and clicked on Bang Bang by Jessie J and company.
This is a great high energy thing. I let my playlist continue for a bit. Next was Bermuda Triangle Exit played by John Renbourn and Stefan Grossman. Great tune.
My playlist had Hole in the Coal by Pentangle next. I love this piece.
Finally, when it was time for a shower, I switched to the sound track the Triplets of Belleville for my shower.
If you don't know this movie, I recommend it. French with English subtitles.
My daughter Sarah recently visited the Eden Project in Cornwall. She took the whole fam. I was familiar with this project but didn't know about this sculpture.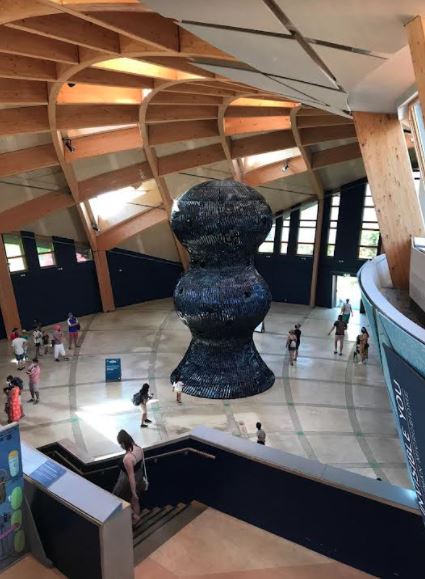 The promo material describes it as a huge, breathing ceramic sculpture, Infinity Blue from Studio Swine. It "pays homage to the "cyanobacteria, one of the world's smallest living beings. Around three billion years ago, cyanobacteria first developed oxygenic photosynthesis and changed the nature of the Earth. \
"The sculpture is a monument to these vital microscopic beings, who, along with their descendants found in the photosynthesising cells of all green plants, continue to provide the oxygen in every breath we take.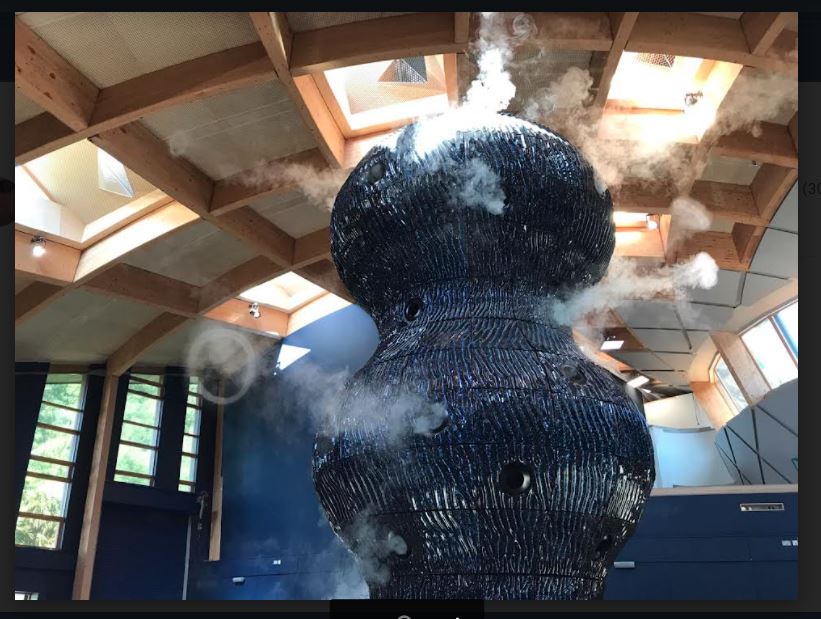 "On the surface, local clay and oxide glazes reflect Cornish mining history. The textural pattern on the ceramic tiles is generated by the reaction-diffusion algorithm found in nature from zebras to coral reefs.
"From the sculpture, vortex cannons fire vapour rings whose scent tells a layered history of the Earth's atmosphere.?
Viewers are encouraged to try and grab the bubbles.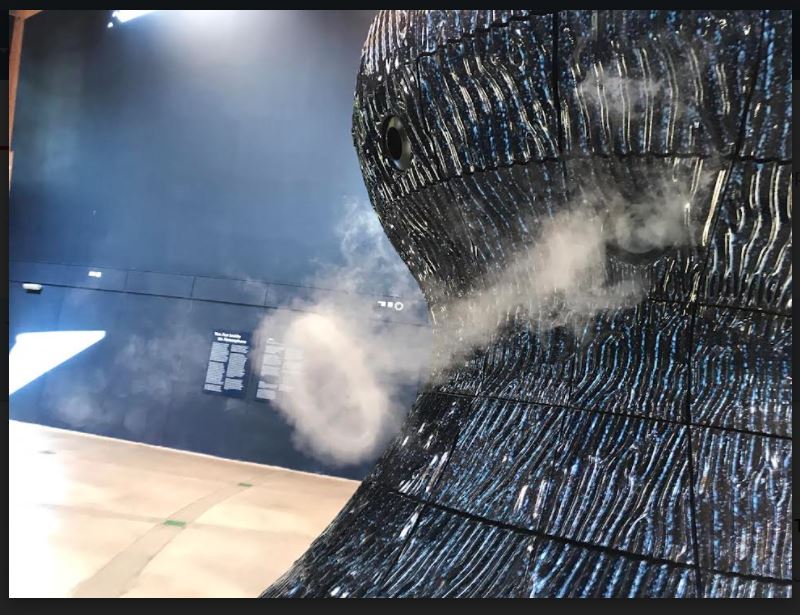 "Blue (Infinity Blue) is one of the world's largest ceramic sculptures."
The pictures are ones that Sarah shared with me. Cool beans.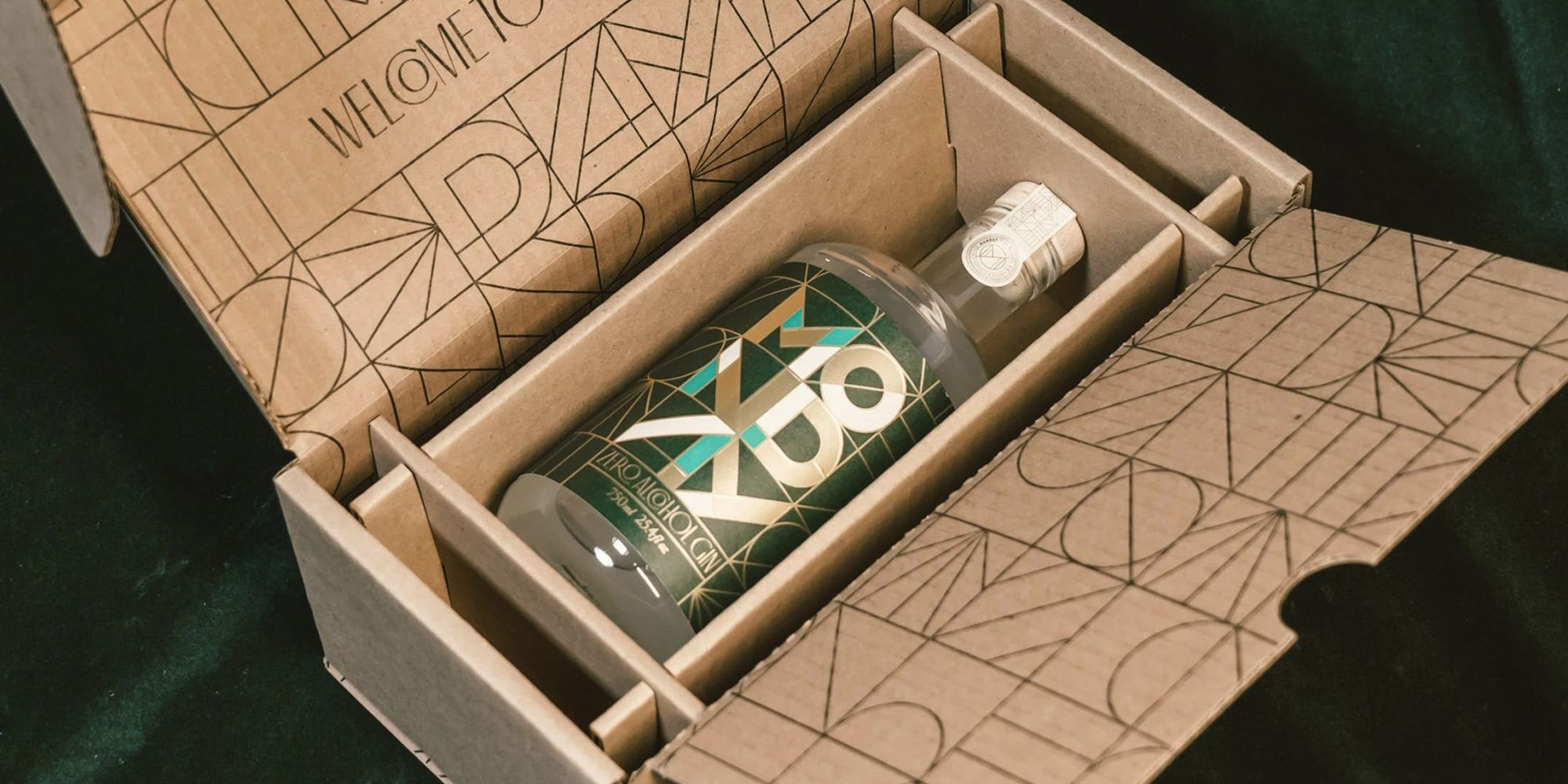 Finally, my Monday Gin arrived in time yesterday for me to have my martini made out of it. There are no calories or alcohol in it. It wasn't too bad. The good thing is that I can keep up my daily routine and cut down on booze and snacks. The taste is very Junipery with the addition of some strong spicy tastes that almost (almost) taste of alcohol.
I found that after this non alcoholic martini, I didn't want a glass of wine or snacks, just a light evening meal. Cool.