My brother is using our home as a home base while he attends the Festival of Faith and Writing 2018 at Calvin College. He got up early and chatted for a bit before he left this morning. We agreed that Calvin College gives us the creeps. Prince Conference Center right across from a build with Devos's name on it. The world is bat shit crazy.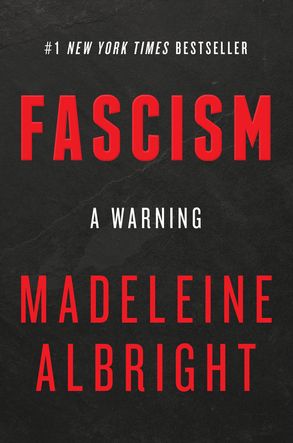 I started reading an ebook of Madeline Albright's new book, Facism: A Warning. It's a study of facism with an eye on the current insane stuff in the USA. She is excellent.
I texted my cellist yesterday trying to beg off our rehearsal. Often if one of the two string players can't make it, I meet with who can. Unfortunately she didn't see it, so I went over to the church around 10 AM and found her practicing. We practiced and chatted for  over an hour. Then she left and I practiced organ.
Eileen and I actually went to the grocery store in person yesterday. Eileen has been availing herself of the local delivery service that will bring you your groceries. Late in the afternoon I went and treadmilled. By the end of the day, I was exhausted again.
I'm feeling pretty good this morning. It was nice to see Mark first thing. He gets a lot out of these conferences. He also has a chance to see friends.
This is the website of  Pádraig Ó Tuama, one of the writers presenting at the conference Mark is attending. Rev Jen mentioned him to me (she's attending as well as her life partner Beth Trembley). She thought I would appreciate him.  So far I haven't found much of his writing online. There are recordings of him reading (which I did not click on yet).
high winds destroy parts of the Taj Mahal.
Glimmers of sanity from Linda Greenhouse.